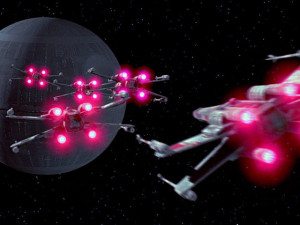 Thursday I wrote about a Kickstarter campaign that was trying to raise money for Death Star research, and I called it the crowdfunding site's jump-the-shark moment. My concern was that if Kickstarter starts letting stuff like that through, it would soon be overrun with nothing but joke campaigns. Now there's a campaign to fund an X-Wing squadron to stop the Death Star campaign. This is exactly the kind of thing I was talking about.
A few people accused me of not getting the joke of the Death Star campaign after my post about it ran, but I get it. I just don't like the it. Kickstarter users Simon Kwan and Ed Deanlove the joke, and responded to it in kind with their own campaign to build an X-Wing. In the campaign's description they say, "We LOVE the Death Star Kickstarter project, and just wanted to post the logical challenge project to it."
Whether I think the actual joke of a campaign to build a Death Star is funny is irrelevant, though for the record the actual campaign itself could have been a lot funnier. My point is that it's hard enough for creators to get their projects noticed on Kickstarter. Letting a bunch of joke campaigns like these through just makes it more difficult for creators to get noticed, and for backers to find interesting projects to throw real money at.
There are a lot of places to post jokes online. Kickstarter doesn't need to be one of them.
Read More at GeekOSystem
Have a crowdfunding offering you'd like to share? Submit an offering for consideration using our Submit a Tip form and we may share it on our site!