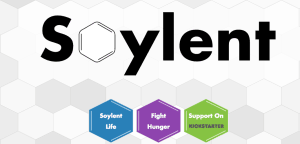 Rob Rhinehart's Soylent Kickstarter campaign may not happen at all.  A recent update on Rhinehart's blog indicates he is presently considering other options besides industry leading crowdfunding site Kickstarter.
Rhinehart's blog post pertaining to his meal replacement drink has been widely covered.  Interest in his product has continued to grow with supporters looking to maintain a healthy diet while lowering food costs or those who see this as a solution for hunger in poorer parts of the world.
In a post on Rhineharts personal blog on February 13th of this year, he boldy authored a missive on "How I Stopped Eating Food".
I hypothesized that the body doesn't need food itself, merely the chemicals and elements it contains. So, I resolved to embark on an experiment. What if I consumed only the raw ingredients the body uses for energy? Would I be healthier or do we need all the other stuff that's in traditional food? If it does work, what would it feel like to have a perfectly balanced diet? I just want to be in good health and spend as little time and money on food as possible.

I haven't eaten a bite of food in 30 days, and it's changed my life..
The story quickly went viral on the internet and today the Soylent forum has hundreds of followers discussing the pros and cons of the Soylent concept.  Rhinehart has continued to share his experience as he has adjusted his formula in his effort to perfect his ingredient mix.  As the excitement grew, Rhinehart indicated he was prepping for a Kickstarter campaign but his update indicates he is considering alternative platforms;
I promised that if I was still healthy after three months of soylent I would launch a Kickstarter campaign to bring it to the world. That time has come. The project is currently being reviewed and if approved I will post the link here, and tweet about it as soon as it is up.

edit: Since posting this I have heard from a number of additional platforms. I now realize crowdfunding has come a long way since Kickstarter coined the term 4 years ago. In light of this perhaps a different venue would be a better fit.
Regardless of the crowdfunding platform it is obvious Rhinehart has captured the interest of broad group of individuals prepared to support his effort in bringing Soylent to the masses.
Update:  In a more recent post his the Soylent blog, Rob Rhinehart indicates he has been turned down by Kickstarter and is in considering a platform associated with Y Combinator.
Kickstarter got back to us and, while supportive, said our project does not meet their platform's focus. The site is stated to be built much more for creative projects and I can see why this idea isn't really their cup of tea.

Crowdfunding has come a long way since kickstarter kicked it off. We looked at some figures and ultimately agreed it doesn't make much sense for us to work with them, or give them 7% of the amount raised. For kickstarter projects the vast majority of traffic does not come from the site itself, international engagement is an afterthought, and it seems like a rather trivial barrier to the success of this project.

Thankfully, we were contacted by another Y Combinator team who is running a new crowdfunding platform that seems to be a much better fit for us. They will not be taking the cut that Kickstarter would have. It's still in beta so we're testing now but it should be up in just a few days.

More importantly, the current formulation is tastier and more filling than ever, the women testers are much happier, and talks with manufacturers are underway.

 
Have a crowdfunding offering you'd like to share? Submit an offering for consideration using our Submit a Tip form and we may share it on our site!

Sponsored Links by DQ Promote