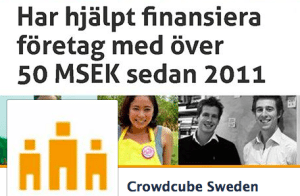 Equity crowdfunding site CrowdCube is extending their reach into Sweden.  The UK based equity crowdfunding platform has experienced great success in the UK over the past couple years having raised over £6.7 Million from over 34,000 registered investors.
In a note posted on the Swedish Crowdcube site it was stated,
We are now challenging conventional venture capital by launching groundbreaking equity crowdfunding – Crowdcube in Sweden.

Crowdcube already has more than 33,000 members in the UK since its inception two years ago and has helped more than 40 entrepreneurs to raise a total of 57 million in capital.

Securing new capital for young growth companies is always a great challenge. In today's economic climate, it is even more difficult. Banks do not lend money if the borrower is willing to risk house and home. Meanwhile, business angels and venture capital firms are frequently out of reach for small businesses. In addition, all of these processes take a very long time.
Crowdcube has been a leader in equity crowdfunding in the United Kingdom and considers their platform the first ever equity crowfunding platform in the world.  It appears now they intend on branching out into other markets.
We want to make it easier for Swedish entrepreneurs to acquire the resources they need to start up or expand their business. Early seed funding usually comes from the entrepreneur's own network of family, friends and acquaintances. Our web-based marketplace helps the entrepreneur to reach out to many more with their business idea. Crowdfunding is about to manage to accumulate a larger group of people, a crowd, as each one is ready to invest a smaller amount, so that the company can bring in enough capital to realize their plans.As a bonus, the company also offers a large number of ambassadors in the community. The investor, the new shareholder, may simultaneously opportunity to build an exciting portfolio of young and promising future of the company.
It was not certain at this date as to how soon offerings would be available on Crowdcube Sweden.
(some items translated from Swedish)
Sponsored Links by DQ Promote