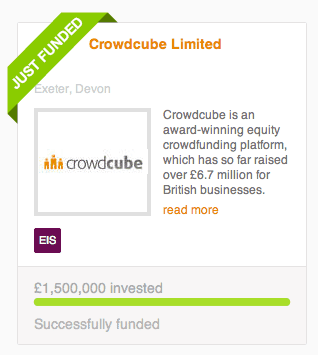 In the ultimate validation of their successful equity crowdfunding platform, UK based Crowdcube has successfully crowdfunded their own company by offering equity in their business.  In a post on the Crowdcube Facebook page they acknowledged having raised £1,500,000 from 259 investors.  The funds were raised in only three days.
The original target was to raise £1,000,000 for 14% equity but it appears the offering was oversubscribed with the final tally hitting 21% total equity.  Many of the offerings on the Crowdcube platform are eligible for tax relief under the Enterprise Investment Scheme (EIS) of 1993.
The Enterprise Investment Scheme was initiated in 1993 to help smaller higher-risk trading companies raise finance by offering tax relief on new shares in those companies that qualify for the program. For the investor, it's a tax efficient way to invest in small companies.  The program specifically targets small, unlisted companies by allowing investors to capture significant tax relief from their investment with the stipulation the funds are locked

up for a minimum of three years.  The Crowdcube offering was able to offer this incentive to their new equity investors.
Crowdcube has raised capital in excess of £6.7 Million to date.  Fully regulated by the Financial Conduct Authority (FCA), the platform recently initiated an expansion into Sweden.  It was not clear if other markets were currently being targeted for future expansion.
The site was founded in 2011 with the objective of facilitating the "notoriously perplexing and

sometimes sluggish" methods of raising capital for entrepreneurs and small businesses.  In light of the challenging British economic environment it appears that investors, regulators, and politicians alike have embraced this disruptive innovation of the finance industry.   Crowdcube wants to allow ordinary people the opportunity to build and own an investment portfolio which supports exciting new businesses.

Sponsored Links by DQ Promote