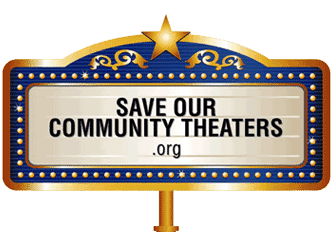 Today a press release from SaveOurCommunityTheaters.org hails the arrival of the "new trend" of hyperlocal crowdfunding sites.
SaveOurCommunityTheaters.org seeks to utilize niche or "neighborhood marketing" to create a community of resources and ideas that are locally driven and specifically targeted. Instead of going to a supermarket in another town these new hyperlocal Crowdfunding sites act like the local general store. They become a place where people can shop within a community they already know.

"Electronic Crowdfunding was born on the Internet, but we believe the future of the platform is to build meaningful bridges between projects and their funders," said Scott Wilson spokesperson for Save Our Community Theaters.

The people who care most about a local theater are the people who live around it. Local theaters provide revenue for local shops and restaurants; they become a hub for the community. This is why Wilson believes hyperlocal Crowdfunding sites like SaveOurCommunityTheaters.org are necessary. "Someone in California isn't necessarily going to care that the small town theater in New Hampshire is on the verge of shutting down," he said.
Kickstarter's astronomic success has kept the focus on general interest crowdfunding web sites for some time, but over time I expect locally-focused platforms like SaveOurCommunityTheaters.org to play an increasing role in the space. Crowdfunding's true power is maximized when backers are actively funding projects, businesses and causes in their neighborhoods and affecting the world immediately around them in a positive way.

Although SaveOurCommunityTheaters.org will allow projects from all over the country, project creators will have to be vigilant in reaching out to their own local communities if they hope to be successful on the platform.

Sponsored Links by DQ Promote