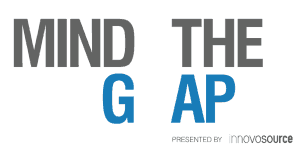 Research universities, often a source of this innovation, are offering a solution through translational research, proof of concept, and start-up gap funding programs. These gap funds and their impact on our innovation capability are detailed in a new, online resource called Mind the Gap.
Mind the Gap, an initiative of innovosource, has tracked the evolution of these gap funds at nearly 100 research universities over the past decade and is focused on supporting current and aspiring fund managers in their program development efforts and investors or corporations with interest in connecting with university technologies and start-ups.
One outcome of this initiative is a first-of-its-kind report that:
-positions gap funds into the new early-stage capital continuum with other traditional sources of early stage capital (venture, angel, public funds)
-details the structure and management of these programs to target specific needs along the commercialization pathway
-expands on how gap funding is impacting the innovation, economic development, and capital landscape
The Mind the Gap Report analyzes 63 gap funding programs at 40 universities, and begins to look at the true impact of these gap funds. In fact, a subsection of these gap funds have started to report that gap funding is transforming the capability to commercialize technology and start-ups, grow communities of innovation, return investment to the university, and play a critical roll in two key areas of present importance:
Business Formation and Job Creation:
-395 startups, 70% survival rate passed five years vs. 51% of all SBA firms
-88 licensed technologies to existing high-tech companies
-7,732 confirmed jobs at and average investment of $16,300/job, which is considerably less than other public initiatives
Capital Attraction:
-$2.8B attracted third-party capital on $162M vested gap fund projects, or ~$17 of leveraged capital per $1 gap funding
-Up to $9:4:11:148 of attracted capital per $1 of gap funding in government, corporate, angel investment, and venture capital follow-on, respectively
"We will be in a better position to transform our innovation capability when we accept that the early-stage capital landscape has evolved, and place an emphasis instead on sharing insights on emerging sources of capital that are better positioned than traditional forms of capital to support innovation at these early stages. Gap funding of technology and start-ups is paramount in this conversation," says, Jacob Johnson, Founder of innovosource.
Sponsored