This release was submitted to Crowdfund Insider and republished in its entirety. Scott Conditt is an Arizona-based filmmaker launching a documentary about Kickstarter project creators.


A project titled "Kickstarted: Documenting the Crowdfunding Revolution" recently received funding through the premiere crowd-funding entity itself, Kickstarter.com. Indie-film and crowd-funding enthusiast websites alike have heralded the effort for it's originality of concept and uber-meta approach. With a roster of compelling talent already on file to accompany the "original" approach, and a new infusion of funding to the tune of $86,000 to complete the documentary, it seems to be the indi-crowds champion. A clever crowd-funded documentary about crowd-funding is after all a PR and media blitz waiting to happen.
But what would the funding contributors to this effort, the crowd-funding community at large, and Kickstarters founders think if it were revealed that the very concept had possibly been copycatted from another kickstarter who had launched the project 2 years before? That may just be the case. A project titled "Kickstarted: A Documentary About Kickstarter" was created almost exactly 2 years before the nearly identical project by the same name was announced in 2013 by 3 Los Angeles-based producers in May.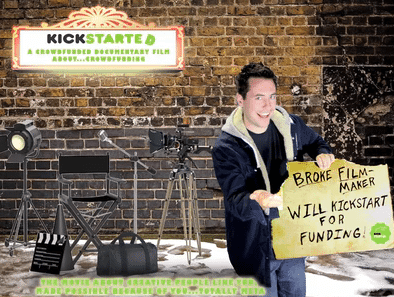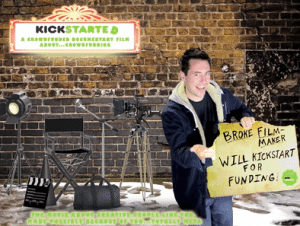 This discovery was made by Original "Kickstarted" concept creator and filmmaker Scott Conditt, of Surprise, Arizona as he was preparing to re-launch his crowd- funding documentary concept this year. "After speaking with crowdfunding experts like Peter Broderick and others a few years back, I realized I prematurely launched the project. It's a complex movement and business structure and I had to do some homework, refine the concept. I had been documenting that process for the last 2 years. I was excited to re-launch the project and had begun to post the new pitch on Kickstarter.com. Then, on a roadtrip to California to capture content, I actually discovered the other "Kickstarted" documentary project as I was trying to pull up my old video in the Kickstarter search bar. It was a gut-punch moment." Conditt reached out and says he extended an olive branch to Jason Cooper, Jay Armitage and Chris Gartinvia, the Producers behind the new clone Kickstarted project through Kickstarters message feature. The message reportedly went unanswered.

"At this point and after much consideration, I've decided to continue to pursue my documentary project…but from another angle. It's a story I'm passionate about and that's what makes for a great documentary. Finding a unique angle to tell it through." says Conditt. His newly posted project "FUNDED: A Self-Fulfilling Documentary Film About YOU!" is currently in
queue for approval by Kickstarter's review board.

Funded Documentary Pitch Video Preview Link: (http://www.kickstarter.com/projects/1667089428/235984520?token=f6b2f7cb)

In one excerpt from the Funded pitch video featuring screenshots of original posting dates, Conditt highlights the nearly identical similarities between his original concept in 2011 and the new Kickstarted documentary. The instance presents not only a first in terms of dual documentaries being produced around a crowd funding entity, but it also brings to question whether or not Kickstarter will have anything to say about potential instances wherein plagiarism or creative copy-catting may surface within their altruistic community of serial entrepreneurs, artists, and innovators.

"I'll be honest, in the same breath I wish them (the Producers of the new Kickstarted Doc) the best, while also wondering why they never responded to my message regarding the circumstance. I put myself in their shoes, and as a filmmaker I would have returned the call asap. I've worked in indi-film and on the backlot of Paramount, and I've seen creative concepts "adopted" by others all too often to be naïve to the fact that it happens. But, maybe it was just a creative cosmic coincidence as well. There are no original ideas – just original angles." says Conditt.

Pending Kickstarter Approval, the "Funded Documentary" Project is projected to launch within the week.

For more information regarding the Funded Documentary Project contact the project at: [email protected]

or Tweet us @fundedthedoc

Have a crowdfunding offering you'd like to share? Submit an offering for consideration using our Submit a Tip form and we may share it on our site!

Sponsored Links by DQ Promote