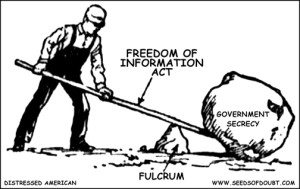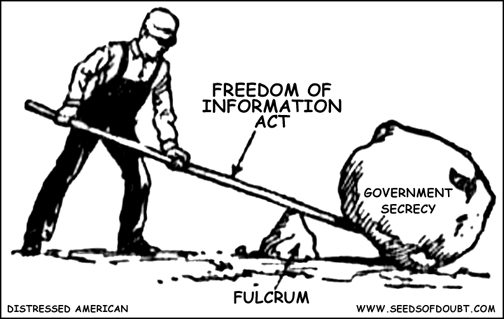 The Freedom of Information Act (FOIA or FOY-ah) is a US law dating back to the Lyndon B. Johnson administration that facilitates the disclosure of information. The law is designed to hold the US government accountable for disclosing information. Additionally, it outlines the consequences of noncompliance by government officials.
Although the law applies to any and all members of the US public, it has proven to be especially useful to journalists over the years. The law has gained increased visibility recently thanks to the Snowden leaks and related revelations regarding government agencies and the privacy of US citizens.
It's also an incredibly complex piece of legislation. Though similar statutes exist at the state level in many cases, they can differ significantly from state to state. It's a maze of bureaucracy, and this complexity can translate to the bottom line for journalists wanting to take advantage. In short, it can be a cost-prohibitive way of seeking details.
Now a Kickstarter campaign aims to make it easier for journalists to make use of FOIA. It is called the FOIA Machine, and it's already fully funded.
FOIA became law July 4, 1966 – and it's been fighting for its life ever since. Presidents and Congress have tried to make it harder to use. Sometimes they've been successful; sometimes they haven't. State sunshine laws frequently come under attack as well. CIR and FOIA Machine will help keep the laws strong by using them tenaciously and teaching others how to do the same. Now that you've celebrated the Fourth of July with sparklers and picnics, declare your independence from government secrets – help us launch FOIA Machine.
The FOIA Machine is sponsored by Berkeley-based nonprofit the Center for Investigative Reporting and has previously secured funding from The Knight Foundation. Additionally, $15,000 of contributions will be matched by the Donald W. Reynolds Journalism Institute at the University of Missouri.
It's billed as a "TurboTax for government records." In late 2012 it was created as a tool to analyze government response times to information requests, but the scope was then extended to facilitate those requests. The tool is currently used by 15 people within the CIR but there are over 800 people on the platform's mailing list waiting to gain access. The Kickstarter campaign will help the team behind the FOIA Machine build their product out and get it ready for the general public.

Upon completion of additional functionality, the Machine will be handed over to another nonprofit, the Investigative Reporters and Editors. IRE is based in the Donald W. Reynolds Journalism Institute at the University of Missouri, hence the matching grant.
Over 750 backers have contributed to the campaign to date, resulting in over $25,000 in funding. If any potential backers need wall fodder, a creative reward is available: a collector's replica of J. Edgar Hoover's letter outlining the danger posed by John Lennon, released via – you guessed it – an FOIA request.
Have a crowdfunding offering you'd like to share? Submit an offering for consideration using our Submit a Tip form and we may share it on our site!