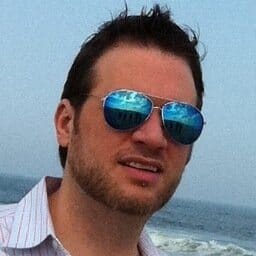 Pax Dickinson had a bad week. Dickinson was the CTO of popular news site Business Insider. It turns out that over the years he has amassed a collection of posts on Twitter that some found offensive, and it seems it finally caught up to him in the form of a series of articles cataloging some of his most offensive efforts. Business Insider and Dickinson parted ways after the tweets came to light.
Dickinson took to Medium to offer a defense of himself and his actions. He also explained that he will now be focusing his full efforts on Glimpse, a "forthcoming encryption based ephemeral picture messaging app."
Glimpse's ethos is certainly rooted in recent revelations about NSA activity in regards to gathering intel on American citizens. Dickinson's social presence has a decidedly libertarian slant, and that seems to translate to Glimpse.
Everyone has secrets and we do too. We first decided to build this app because we wanted a way to share things that are too private – or just too silly – for Facebook.

Then the NSA revelations happened. Privacy is a dwindling luxury and there are very few companies willing to stand up to the government and fight for your right to secure & private communication.
Glimpse is actually using crowdfunding in an interesting way. Glimpse supporters can go to the web site and contribute money or bitcoins in exchange for beta access to the Glimpse app. A $25 contribution nets an expedited Freedom of Information Act request to the NSA, so backers of Glimpse can easily find out what the NSA has on them.

In a recent interview with NY Mag, Dickinson explains why his app is needed at this time, alluding to a comment from Edward Snowden that high-quality encryption still works in stifling NSA access to communications.
I just want to talk about my start-up, that it's going to be amazing. Ed Snowden said that strong crypto still works, and it's the only thing that you can count on. And I really want to bring strong crypto to the masses, I want to really take on the NSA and be the guy that brings privacy back to the Internet. And I'm the poster child for this.
Glimpse promises never to charge for the app, and the site says the app will be donation-supported only.

The irony of the tagline for the future messaging app isn't lost on us: "Because Sometimes You Wish You Hadn't Said That Online."

We reached out to Dickinson for details on how long the site had been open to crowd contributions but received no response.

Sponsored Links by DQ Promote