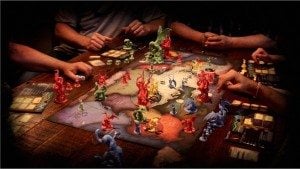 On the BoardGameGeek forums, a member preparing a crowdfunding campaign for a new tabletop game posed an interesting and simple question: How much art should be complete before the launch of the campaign?
Here are a collection of thoughts shared in the thread. (You can see the full version here)
That's a good question. Early KS projects frequently only had a small amount of art but we're seeing more and more that are almost complete from the art end, or at least have a significant amount done.

I'm working on one right now and we're aiming for a finished board, 2 finished cards, logo, maybe cover. Or at least almost finished. Enough to look finished but could have slight adjustments later.

KS projects really have to look slick to get any interest so showing really bad proto art isn't a good idea. I think you'll at least want a nearly final graphic design and a couple illustrations. And if you got a board, pretty complete one.

But on the recently completed King's Forge, they had very little at the start but added a significant amount during the campaign. By the end you got a good idea what the cards would look like. But that was also with an established publisher, good price point, and good communications through the campaign.

Of course you could get yourself into a problem if you spent a lot on art. Look at Infamy which appears to be almost art complete and looks like will not make its goal. Though I expect they will re-run it if they don't.
You want enough preview art before kickstarter to get a person's attention, anything over that is just frosting. The important bit is what you are previewing. With a card game, you should be showing cards to attract card game players. It seems simple (and it is) but linking the game to its audience is often overlooked.

Even if you have all the game art done prior to kickstarter, I would still advise slowly releasing the content. Its easier on the backers to see progress of the game via visuals.
We decided to start a crowdfunding campaign, because the artist was a full partner sharing the profit of the campaign, instead of being "paid".

This had three great benefits:

– We could show off much of the art, getting attention also from his fan base (he is a well-respected comic artist in Germany).

– We could show how the art was done, so the people go an idea of the work and effort behind and the quality.

– We could deliver the game two months after the end of the campaign, as scheduled. There were some portraits to be done, finalising the rules (names of backers, etc.), and off it went to the printers.

So, when you are lucky to find an artist willing to do that, I always would do it again the same way.
Sponsored Links by DQ Promote