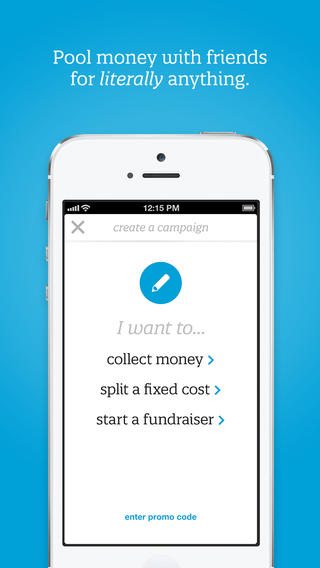 San Francisco's Crowdtilt has just released an app for iOS devices that allows users to create or contribute to crowdfunding campaigns right from their smartphones.
Features of the app include the following…
Quickly start, contribute to and/or manage campaigns on the go; spur-of-the-moment, everyday campaign ideas can be quickly brought to life through a gorgeous interface, completely customized for mobile
Browse active campaigns, join, and follow your friends
Immediately share your new campaigns and contributions with friends via email, Facebook, Twitter or text message (standard messaging rates apply)
Automatically streamline the process of creating a tax-exempt, non-profit campaign down to just a few strokes on your phone; all tax-deductible receipts are taken care of with Crowdtilt
This is the latest in a spurt of initiatives and products rolled out by Crowdtilt in recent months. Crowdtilt recently released Crowdhoster to the wild, a fee-free semi-DIY crowdfunding solution. A precursor to that effort, the Crowdtilt API was also released this year. It seems the company started with a foundational API solution and now continues to build upon it while making their product offerings more robust and competitive.
Crowdtilt co-founder and CEO James Beshara says that the move is aimed squarely at providing the ability to crowdfund anywhere for anything. "Crowdhoster and the Crowdtilt API are two of the most powerful tools in crowdfunding, but sometimes you don't want power," Beshara said. "Sometimes you want accessibility, so we're beyond excited for the app to put the power of crowdfunding in all of our pockets!"
In tandem with the app's release, Crowdtilt is waiving the 2.5% success fee for crowdfunding campaigns started from mobile devices for a limited time.