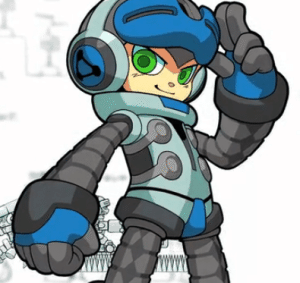 The Kickstarter campaign for Mighty No. 9 is in its final hours. With a fitting 9 hours to go at the time of writing, the campaign has raised over $3.4 million.
This puts it about $800,000 short of the second all-time game-related Kickstarter campaign, Torment: Tides of Numenera, which raised a total of $4,188,927. The Mighty No. 9 team is also raising money via Paypal on a standalone site, which will add at least another $135,000 to their coffers on top of the Kickstarter funds.
The team plans to hold a livestream for the final hours of the campaign beginning today at 3 PM Pacific/6 PM Eastern. The URL for the livestream hasn't been announced yet, but it will be announced via the Kickstarter campaign page.
Inevitably, a campaign such as the one for Mighty No. 9 sees a spurt in activity both immediately following launch and toward the end of the campaign. Potential backers know they are running out of time to get preferred access to and updates about the game, so funding has picked up in a big way, raising almost half a million dollars in the past 24 hours.
Over 50,000 backers have ponied up enough funding to secure a future copy of the Mega Man-inspired game, which is slated for an April 2015 release.
Another notable stat: there are over 100,000 comments on this campaign. By comparison, Torment has garnered just short of 50,000 since beginning funding in March of this year. I've reached out to Kickstarter to find out if this is a record number of comments for the platform.
If Mighty No. 9 can overtake Torment for the second all-time spot on Kickstarter's games list, backers will have reason to celebrate as well. The last stated stretch goal for the campaign sits at $4 million and brings an online battle race mode to the eventual game.
The next stretch goal lies at $3.7 million and includes a single-player call stage and boss fight.
Of course, Ouya will retain rights to the top spot for the gaming category on Kickstarter. Julie Uhrman and friends raised over $8.5 million, which more than doubles contender number two's total.
As for the all-time list, the campaign currently sits at #7, having just overtaken Double Fine Adventure for that honor. It'll overtake tabletop darling Reaper Miniature Bones soon after we published this article for #6 and could climb as high as #4, though any progress past that would be a shock.
The team posted the following early example of gameplay. Watch below…
Have a crowdfunding offering you'd like to share? Submit an offering for consideration using our Submit a Tip form and we may share it on our site!