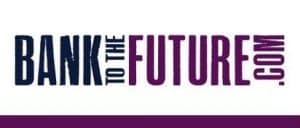 Crowdfunding site BankToTheFuture, which prominently lists Sir Richard Branson as a champion of the platform, has decided to do a pivot of sorts.  They want to become the the first crowdfunded investment bank.
The company is crowdfunding itself to help accomplish this goal and is looking to raise £2 Million over the next two months.  The offering is presently live on the UK based crowdfunding portal and showing a raise to date of £285,000.  The offer is scheduled to close on December 10th and is already considered successfully funded as it has surpassed the £150,000 hurdle mark.
Britain plans to lower the minimum capital requirement for new banks to 1 million pounds from the European minimum of 5 million pounds, in a bid to encourage more competition.
BankToTheFuture launched in August 2012 and has successfully raised £487,000 since their launch.  The site also lists 3411 registered investors.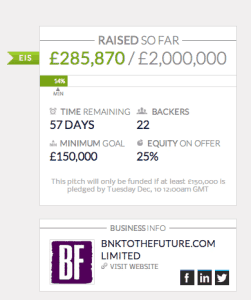 In a report in Reuters, Simon Dixon, BankToTheFuture founder and CEO stated,
"The fundamental difference about what we are doing that would be different from other people with banking licenses is transparency … everyone can see exactly what happens with their money," 
As part of the announcement about becoming an investment bank, BankToTheFuture held a launch event at Sir Richard Branson's club.
Earlier this year BankToTheFuture had commenced another self crowdfunding campaign targeting a raise of £1.6 Million offering equity in their platform.