Crowdfunding technology has brought to market many cool and innovative products.  But beyond the Pebble Smartwatch or Oculus Rift there are many more products which will deliver new features which will make your life better than it was before.  You just don't know it yet.  Most integrate with your iPhone, iPad or Android device because these devices have become our own personal servers for our day to day existence.  Kickstarter has 173 tech campaigns live today.  Indiegogo even more.  Below are five which I think are worth sharing.  If you have a tech crowdfunding campaign you would like to share with Crowdfund Insider please email us at [email protected]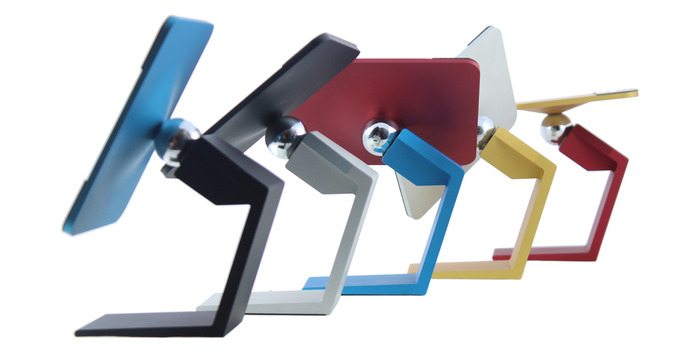 MiStand is an elegant stand for the iPhone, iPad plus Android devices.  This project by Mi, based in Coventry, United Kingdom, definitely share the Jony Ive aesthetic as this stand is elegant in it's simplicity.  The design is driven by allowing a perfect viewing angle by incorporating a magnetic ball which allows fluid 3D rotation.  If you already have your table safely covered in a case (like I do), the project creators claim their micro suction will work with practically any type of case.  Crowdfunding on Kickstarter until November 21st.  The £40 reward level gets a MiStand delivered to your household by January 2014. You get to pick the color too.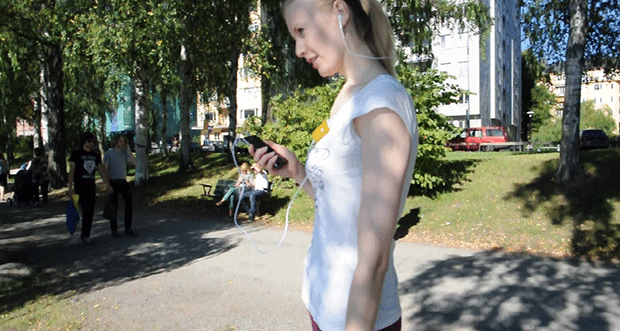 Coming out of Stockholm, Sweden, the Swedish Innovation Group has produced an Apple worthy device which allows you to record both incoming and outgoing phone calls.  If you are a reporter – you need one of these.  If you simply need to remember a conversation in detail this is for you.  The creators correctly note that in the App store there are tons of third party apps which allow you to record your calls by subscribing to third party services.  None of these Apps allow you to store recorded calls directly on your iPhone.  Now Spara allows you to record your calls on the fly with just a push of a button.  Share them with friends or download them onto your computer.  Crowdfunding on Kickstarter until November 28th.  $39 CAD seems like a bargain to get one of these by December 2013.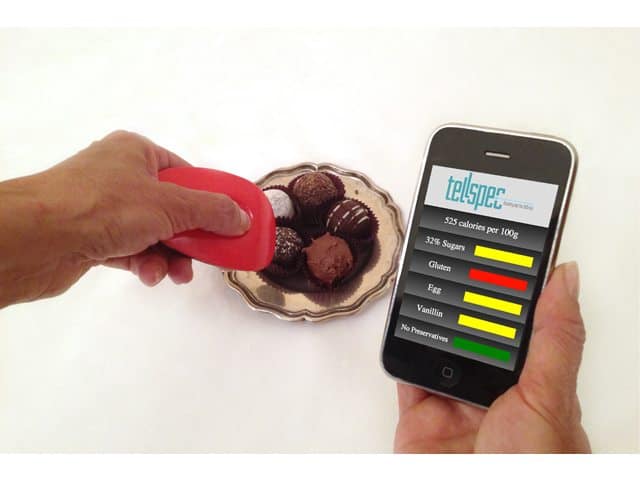 Have you ever wondered exactly what you are eating?  Calories, ingredients, preservatives – including specific amounts of each ingredient.  Sure you can read the label but I think we pretty much all know these are mere guesses.  More window dressing than realistic estimates of what we are preparing to ingest.  If you want to know more about the food you eat then TellSpec is a must have device.  Coming out of Ontario, Canada, this product uses a spectrometer scanner to evaluate ingredients sending the data to cloud based servers which quickly deliver results to your smart phone.  Crowdfunding on Indiegogo until November 16th.  $150 reward level will get you an early bird special.  Delivery is expected in August 2014.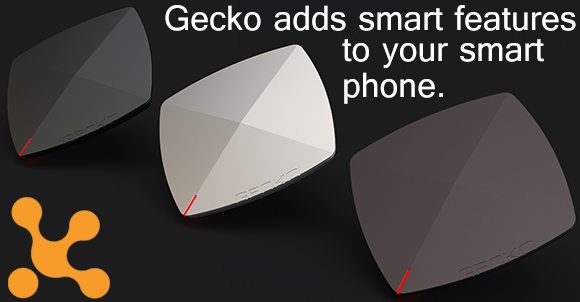 Gecko will make your Smart phone smarter.  Just ask the Woz.  He ordered one.  If it is good for him then it is good enough for me. Gecko adds new functionality to your smartphone using Blue Tooth Low Energy (BLE) for either your iOS or Android mobile device.  Gecko integrates with an App which allows you to control many different things with different gesture controls.  Watch the pitch video.  It will make you want one today.  Crowdfunding on Indiegogo until November 2nd so hurry up. For only $40 you can receive two Geckos with expected delivery of January 2014.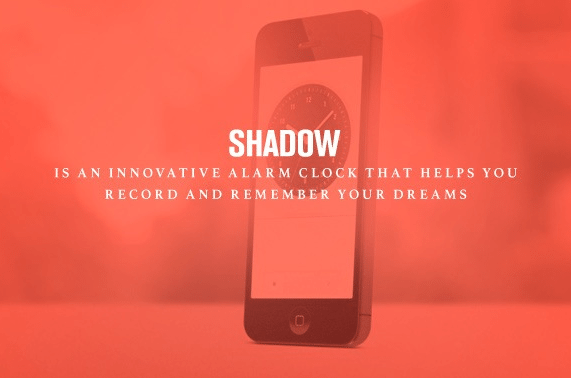 I have been wanting to write about his fascinating crowdfunding project for some time now.  Shadow is a mobile application that helps you to remember and record your dreams.  We forget 95% of our dreams within minutes of waking up.  Now Hunter Lee Soik from NYC is proposing to create the largest dream database in the world.  The app slowly wakes you up during the time you are dreaming and allows you to either speak into your device and the dream will be transcribed, or you may text in the subject of your dream.  Once your dream is stored they will be able to view trends from users around the world.  Really fascinating.  Crowdfunding now on Kickstarter. The campaign closes on November 2nd.  For only $8 you can become a card carrying member of the Shadow community.

Have a crowdfunding offering you'd like to share? Submit an offering for consideration using our Submit a Tip form and we may share it on our site!

Sponsored Links by DQ Promote