The Milken Institute, Center for Financial Markets and PayPal have partnered in a gathering in San Jose, California about Crowdfunding. The event is taking place tomorrow (Thursday, December 12).
Daniel Gorfine,  Director of Financial Market Policy and Legal Counsel at the Milken Institute will moderate a discussion of leading platform founders, disruptive entrepreneurs, and investors leading the way into 21st century finance.
The topics of discussion are as follows: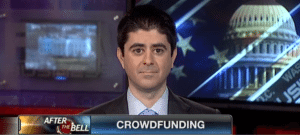 1) Crowd Investing Landscape
The internet, social media, and the power of the crowd are fostering new ways to raise capital–what are the challenges, risks, and rewards? Explore the range of crowd investing models in the marketplace with some of the leading platform founders.
• Nav Athwal, Co-Founder and CEO, RealtyShares [email protected] & @realtyshares
• Ryan Caldbeck, Founder and CEO, CircleUp – @CircleUp
• Sam Hodges, Founder and Managing Director, Funding Circle @HodgesSam & @FundingCircleUS
• Alex Mittal, Co-Founder and CEO, FundersClub – @mittal & @FundersClub
• Richard Swart, Director of Research, Program for Innovation in Entrepreneurial and Social Finance, College of Engineering's Fung Institute, UC Berkeley; Partner, Crowdfund Capital Advisors – @richardswart
2) Crowd Entrepreneurs & Investors


Much attention has been focused on online investment platforms. But what about the entrepreneurs and investors actually putting these new tools to use? We'll hear real-world lessons gleaned from investors and entrepreneurs using online portals to invest in and fund startups.

• Nick Grossman @nickgrossman , General Manager, Union Square Ventures – @usv

• Sherman Hu, Angel Investor, CircleUp

• Allen Lu @allenclu, Producer, Linsanity: The Official Jeremy Lin Documentary – @LinsanityMovie

• Dean Radetsky, Angel Investor, OurCrowd – @OurCrowd

• Dave Silverglide, CEO and Co-Founder, MixtGreens, Split Bread – @mixtgreens & @SplitBread

3) The Promise of Peer-Based Lending 

Peer-based lending models have demonstrated significant promise in providing credit to individiuals and businesses, both domestically and overseas. Will these new models disrupt traditional lending as we know it? What the challenges and opportunities related to further development of this marketplace?

• Adam Boyden, COO, SoFi – @adamboyden & @SoFi

• Austin Choi, General Counsel, Kiva.org – @Kiva

• Ethan Senturia, Co-Founder, Dealstruck – @Dealstruck

• Josh Tonderys, Chief Risk Officer, Prosper – @ProsperLoans

For more information see the Meetup page here. 

Sponsored Links by DQ Promote