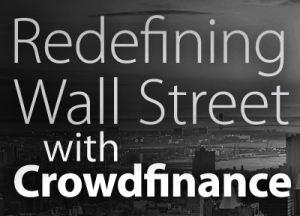 NowStreet Wire, a producer of financial events that introduce the Wall Street community to rising asset classes such as crowdfunding and P2P lending, is pleased to announce that, due to strong demand, it will be providing a live broadcast of Crowdfinance 2013, a crowdfinance event that will be taking place on December 17th at Thomson Reuters' conference center in New York City.
Broadcasting live from 8:30 AM to 6 PM, the video stream will cover presentations and panels from the conference as well as exclusive interviews with recognized industry leaders. Interested individuals may register for the livestream and to view the agenda on the event site.
During the course of the day, financial veterans and industry experts will introduce the latest corporate finance structures and modern methods of marketing deals on the Street. They will also present a roadmap for private-share secondary transactions and unveil the infrastructure that has been developed to support this expanding industry. The sessions are expected to cover every aspect of crowdfinance including P2P and P2B lending, intrastate crowdfunding, PIPRs ("Private Issuers Publicly Raising" via 506c), registered crowdfunding, real estate crowdfunding and reward-based crowdfunding. Discussions will draw insight from recognized leaders in market data, social media, financial infrastructure, investment banking, securities law, venture capital and retirement planning.
Although the event is sold-out, a waitlist is available.
"We are astounded by the amount of interest Crowdfinance 2013 continues to generate and are pleased to be able to open the program to virtual participants across the globe," said Dara Albright, Founder of NowStreet Wire and Chief Communications Officer of Crowdnetic. "We look forward to helping as many people as possible capitalize on this next frontier in financial services."
Sponsored Links by DQ Promote