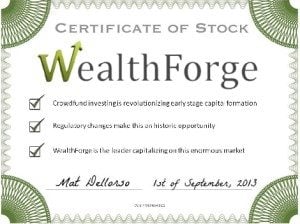 Shifts Focus to B2B Side of the Crowdfunding Industry.
Founded in 2009 during what was really the frontier times of crowdfunding, WealthForge is a holding company which also owns a funding portal (FundRoom) and a FINRA-compliant broker-dealer (WealthForge LLC).  The genesis of WealthForge started when a friend's father – who had invested in an early stage company which became very successful  – wanted to get into other private placements. At that time there were few options to access these types of deals unless you were connected in some manner. A group of entrepreneurs which included Mathew Dellorso set out to create the type of platform where investors could discover these types of deals and they became pioneers in the crowdfunding industry by launching FundRoom.

From 2010 to 2012 the platform claimed $3.9 million in investments from accredited investors on FundRoom. In 2012 the platform was fortunate to have one of their listing companies acquired by a larger company generating a good exit and great returns for investors. As the platform's notoriety increased and with the passing of the JOBS Act in 2012, WealthForge started to receive inquiries from other companies interested in utilizing their backend to enable online transactions.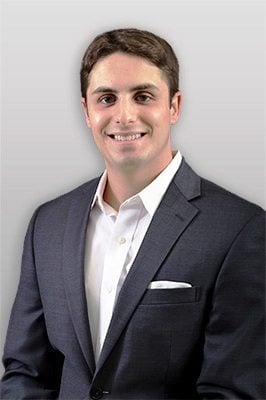 Having already established and proven FundRoom as a crowdfunding portal, co-founder and CEO Mathew Dellorso and his team began to see opportunity in another part of their business. They had worked very hard to create a broker-dealer with compliance features along with escrow and fund management technology.
As other companies began to contact WealthForge, Dellorso saw a growing demand for a service they had recently created…
"Initially we got groups like WeFunder and other companies to partner with us so we could be their broker dealer."
As interest grew the company began to pivot from a portal to a B2B technology provider for the crowdfunding industry. Today WealthForge has partnerships with some big crowdfunding names like WeFunder and Mosaic. They are currently working on a partnership with a prominent real estate crowdfunding site, and there are several other projects in the works.
WealthForge does not intend on licensing their front end transactional platform and becoming a white label service. What WealthForge wants is to provide features similar to BancBox – escrow and money transfer – married to their broker-dealer, so now their strategy is to enable other front end equity crowdfunding sites.
WealthForge is now enabling other platforms, which have deal flow and private investors, to comply and complete transactions. WealthForge is even planning on working with other existing broker-dealers interested in getting into the crowdfunding market. The company wants to work with investment managers to get their deals into these networks thus creating a syndicated environment.
Dellorso states they want to list retail crowdfunding (Title III) offerings as soon as the regulations are clarified by the SEC. Dellorso is concerned about some of the more restrictive aspects of proposed regulations. The current threshold for retail crowdfunding offerings having to produce audited financials at $500,000 is draconian.
"I believe the amount that can be raised under crowdfunding (Title III) should be raised to $2 Million.  I also believe an audit should only be required if you are raising over $1 Million."
Dellorso sees the $1 million threshold as arbitrary. Side by side offerings – where a Reg D offering is partnered with a Reg CF offering – are positive but will also require a broker-dealer involvement. Dellorso sees this as helping his company, but not necessarily the best approach.
WealthForge's network of clients has processed around $25 million to date. Dellorso sees hundreds of millions being transacted in 2014 and hopefully billions by the time 2015 rolls around.
WealthForge has been in talks with some international platforms which are interested in moving into the United States. While no partnerships have been announced to date, they hope to be able work with some of these innovative platforms.
FundRoom is taking a back seat to their new focus with the WealthForge broker-dealer, back end transactional application. WealthForge envisions their online securities transaction technology along with the broker-dealer as a powerful combination to enable other platforms interested in offering deals in the market they serve.  Apparently the average cost of setting up a broker-dealer is around $700K. The cost to operate a broker-dealer is around $250K per year.  WealthForge can scale and provide the services to interested portals at a fraction of that cost.
Dellorso sees crowdfunding for  growing quickly,
"I see deals getting done with higher velocity with more investors and bigger rounds.  I see $5 million deals, $10 million deals getting done online through private placements soon.  I think investment banks will start to get worried.  On the debt side, I think you will start seeing community banks and lending institutions getting worried."
Once these institutions wake up to the power of crowdfunding, WealthForge will be there to help guide them and to provide them the needed technology to launch their own crowdfunded offerings.

Sponsored Links by DQ Promote