Simple Elements LLC is a smart technology device company based in Atlanta, Georgia. Manuel, Pablo and Christy Masri serve as CEO, CTO and CFO respectively. The family hails from Argentina and they have developed a solar-powered smart mailbox that aims to weave mailboxes into the ever-growing "Internet of Things."
This invention came thanks to my better half and the best dog ever, Firu.  Everyday around 4 p.m. Firu would bark, and at first, we didn't know why.  Soon after though, we realized that he was barking at the mailman.  With that, my wife's excitement to get new mail started.  But we don't always get new mail, and since not everyone has an amazing dog like Mr. Firu, we thought, why not create a mailbox that like him, would let you know when you have mail?  And why not add more security than a regular ol' mailbox?
The device currently has a crowdfunding campaign running on Kickstarter, and the campaign has raised just over $7,500 on a goal of $50,000 with over a month left to go. Prospects for the campaign look good at the time of writing.
The mailbox actually locks when access isn't required. The designers of the mailbox say that it actually learns the mailman's schedule and unlocks automatically around the time it expects to get mail. Of course, an accompanying smartphone app allows control of all features. The user can set manual lock/unlock times as well.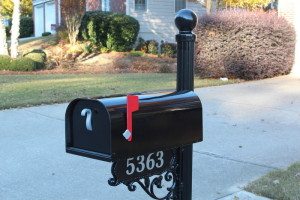 When on the go, the owner of the smart mailbox can send a one-time use key to a neighbor or friend to grant access to the box. Simple Elements touts the ability to use the box as a "mini storage unit."
The box has wi-fi built in, so it works with the home's wi-fi system to provide access and control features. It is also a bit wider than a standard mailbox at 9.8″ wide. This allows for larger packages to be placed in the mailbox and keeps expensive items off of the doorstep.
Funding will be used to provide an Android app, certify the box with the USPS and finalize the production run among other things.
The mailbox is available for preorder during the crowdfunding campaign at a price point of $180.
Have a crowdfunding offering you'd like to share? Submit an offering for consideration using our Submit a Tip form and we may share it on our site!