Campaign Launched by Brad McQuaid's Visionary Realms Games Studio.
Massively Multiplayer Online (MMO) game Pantheon: Rise of the Fallen is crowdfunding on Kickstarter today and they have set a goal of raising $800,000 by February 22nd.  The much anticipated game and launch was leaked last week and expectations are high for an incredibly successful crowdfunding campaign.  The project quickly jumped out of the gate besting $50,000 in 20 hours.  Over $85,000 has been contributed as of today.  The confident campaign has already released their stretch goals only several days into the campaign with the final stretch set at $6.7 million. The gaming category on Kickstarter is the platforms most successful having raised over $180 million since the rewards based platform was launched.
The strategic move to use Kickstarter is to first prove there exists sufficient demand for a group focused game like Pantheon. The organizers have stated if they can get to the goal they will have enough to get the game started and be able to get their studio set up and operational.
Pantheon: Rise of the Fallen is described as an intensely social game with a vast, detailed world of swords, sorcery, dragons and knights.  Visionary Realms  was founded by the well known Brad McQuaid who has been in gaming for over 20 years plus a group of experienced MMO developers. They have worked on game titles such as EverQuest, EverQuest 2,Vanguard: Saga of Heroes, EverQuest Next, Free Realms, Star Wars: Galaxies, Star Trek: Hidden Evil, Myst 3: Exile.  The process to create Pantheon is already in process but they are looking for additional funding to hire more staff.
Visionary Realms, Inc. announced today their plans to meet a growing demand in the Massively Multiplayer Online Games market by developing Pantheon: Rise of the Fallen, a game targeted towards the challenge-seeking gamer. The game's design and ideas were inspired by feedback from many MMO communities that have been looking for a return to a classic-style MMO gameplay and group-focused game content.
McQuaid stated about the game;
"I receive emails almost every day asking for this type of game.  No one else seems to be answering this call. It's the kind of game we've been wanting to play for so long and we're finally getting a chance to make it, thanks to major advances in game development technology and crowdfunding."

"We've got a fantastic team," said McQuaid. "These guys have done key work in many of today's AAA MMOs. Now we get to work together on a passion we all share, and make the kind of game we want to make."

"We believe there are many, many people out there who have been wanting a game like Pantheon for so long and we're asking them for their help in making it happen," said Director of Development, Salim Grant. "It's the perfect opportunity for us to work with the fans and have everyone be a very real and important part of this exciting project."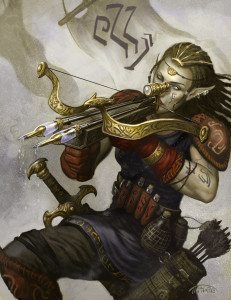 Members of the Visionary Realms, Inc. team have been involved in the creation of many of the fundamental mechanics and systems still used in most of today's MMO games and experienced by millions of gamers worldwide.
Already the game has inspired gamers to create fansites for the game and communities to fill message boards in anticipation of the game. "I knew there was going to be excitement over this," said McQuaid. "I just didn't realize to what extent. We haven't even shared a lot of real information about the game yet. Wait until they see the Kickstarter site. It's going to be crazy!"
Have a crowdfunding offering you'd like to share? Submit an offering for consideration using our Submit a Tip form and we may share it on our site!