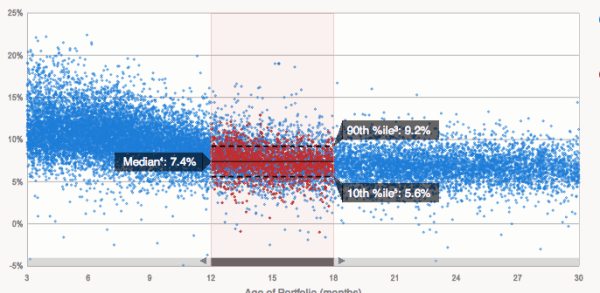 Lending Club has announced the addition of two new statistical charts aimed at helping their investors understand trends in returns. Notably, both charts seem to actively encourage investors on Lending Club to have at least 100 notes in their portfolio for the purposes of diversification.
Chart one shows how portfoilios with 100, 250 or 500 notes perform over the life of the investment. The chart places special emphasis on the 10th and 90th percentiles to give some idea of what may be considered a best- and worst-case scenario. The second chart simply shows the benefits of diversification on the Lending Club platform and how having more than 100 notes can stabilize returns and limit downside risk.
Many Lending Club newbies are shocked when their returns are lackluster based on a handful of notes, but many peer-to-peer lending advocates have worked hard to educate lenders on the importance of diversifying their P2P lending portfolios.