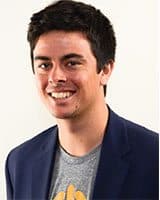 We're moving full steam ahead with Inside Crowdfunding, and we're excited to announce that the guest for episiode #2 will be Adam Draper, CEO and founder of Boost VC and fourth generation venture capitalist.
Why am I excited to have Adam on the show? Because Adam knows Bitcoin! (And I don't) He has been one of the most bullish VCs on the up-and-coming cryptocurrency. If you want some context before the show, check out this piece about Adam's first foray into Bitcoin. We'll certainly be talking Bitcoin in a crowdfunding context.
Of course, we'll talk crowdfunding in a general sense as well. We also have to hit on Adam's dream to build an Iron Man suit.