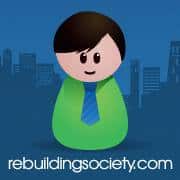 RebuildingSociety.com wants UK businesses of their peer-to-peear crowdlending platform and  they are offering a special incentive through next month.
During March, businesses that successfully complete a loan application for up to £50,000 through their P2P lending platform, applicants will be eligible to win their loan completely interest-free, with rebuildingsociety.com paying the interest to its lenders instead – a saving of approximately £5,373.
The winner will be the loan that attracts the most money in bids from interested lenders on rebuildingsociety.com. Business loans on the site are created through an auction process where individuals pledge money and an interest rate they feel reflects the business' future prospects. Once the requested amount is met, the lowest interest rate bids are accepted, so the more bids there are by lenders, the cheaper the loan becomes.
To date, rebuildingsociety.com has completed more than 30 loans worth around £2m. It also doesn't charge any early redemption fees.

Rebuildingsociety.com's Managing Director, Daniel Rajkumar, commented:
"Peer-to-business lending is already a great way for businesses to quickly raise growth capital. What we're doing is making it even more rewarding and highlighting two of the major strengths in the industry – quick finance and borrowing from people with a vested interest in your success.

"We're finding the most successful businesses on our platform are the ones that borrowing for growth is good news, they introduce the concept to their contacts, borrowing from them as well as our lenders and as a result, enjoy lower rates of interest and more engaged stakeholders. It's a new approach to a very old part of business, but it typifies new attitudes in finance."
The average time for a £50,000 loan to be completed on rebuildingsociety.com is just over one week and business borrowers can refer their own lenders to the site to ensure a cheaper and faster loan. Those that are not successful in winning the interest free loan, can still qualify for 25% off their arrangement fees when they refer four lenders that go on to lend £250 or more to them.

Businesses eligible for a loan through rebuildingsociety.com must be profitable, have two years of trading and be a limited company, LLP or PLC. Only suitable applications will be listed on rebuildingsociety.com's loan auction marketplace.

Sponsored Links by DQ Promote