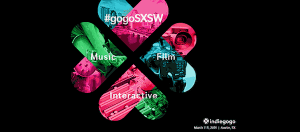 Global crowdfunding platform Indiegogo is gearing up to head to Austin, Texas next week as part of the global SXSW 2014 blitz.  They will be hosting multiple "Happiness Hours" and are asking friends and fans to swing by for a visit at the Indiegogo Tech Cafe where they will have free WiFI, food and of course drinks.  Several popular, successful crowdfunders who used the Indiegogo site to raise funds will also be hanging around – including:  Misfit Wearables, Breathometer, StickNFind and URB-E.   Indiegogo has even posted a form to fill out to let them know you are heading their way.
SXSW started in 1987 began as music festival and has grown into a tech, film, music, digital, and just about everything else love-in where entrepreneurs, creative types and anyone interested, arrive every year to see what is new and hot in the creative world.  Over 30,000 paying attendees showed up in 2013.
Details on Indiegogo times / locations are below:
INTERACTIVE/FILM
For Film/Interactive we will be nestled across the street from the Austin Convention Center, so before you head to a keynote or panel, make sure to stop by first.
Indiegogo Tech Café
102 Trinity St, Austin, TX 78701
March 8th – 11th, 11am – 4pm
Indiegogo's SXSW Kick-off Happiness Hour wth Tech Zulu 
March 7th, 3pm – 5pm
RSVP HERE
Indiegogo Film Happiness Hour with The Wrap 
March 9th, 4pm – 6pm
RSVP HERE
Interactive Speaking Event: 
Make It Rain – The New Healthcare Funding Landscape with Bre DiGiammarino
March 7th, 5pm – 6pm
Film Speaking Event: 
The Crowd with John Trigonis
March 8th, 12:30pm – 1:30pm
MUSIC
For Music, we'll be setup at the Brooklyn Vegan space at Red 7, 611 E 7th Street, in the center of all the SXSW excitement. The space is open and free to the public. We would love for you to come for our Happiness Hour or during our Indiegogo Music Hours–or come for both!
Indiegogo with Brooklyn Vegan
Red 7, 611 E 7th St, Austin, TX
March 12th – 15th, Noon – 6pm
Indiegogo Happiness Hour with Brooklyn Vegan
Noon – 2pm
RSVP Here
 More information is available here.
Related articles across the web
Sponsored Links by DQ Promote