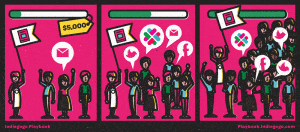 Running an effective crowdfunding campaign is a ton of work.  Not only must you have 30% committed up front but a successful campaign takes weeks, if not months, of planning.  Once a campaign launches you have to be on every day promoting, communicating and dealing with the inevitable unknowns that always crop up.  Of course once a campaign is successfully completed there is tons to do as well since you just signed up a gazillion backers and they want to know what's going on and when their reward will ship. Sounds like a lot and it is.
Well global crowdfunding platform Indiegogo has updated their crowdfunding playbook to help you navigate the intricacies of successful crowdfunding.  If you are going the Indiegogo route – this is a a must read.
Team Indiegogo has broken it up into five segments:
Their playbook is an in depth, detailed approach to crowdfunding.  I promise you they have the data to back it up too.  You can check them all out here.