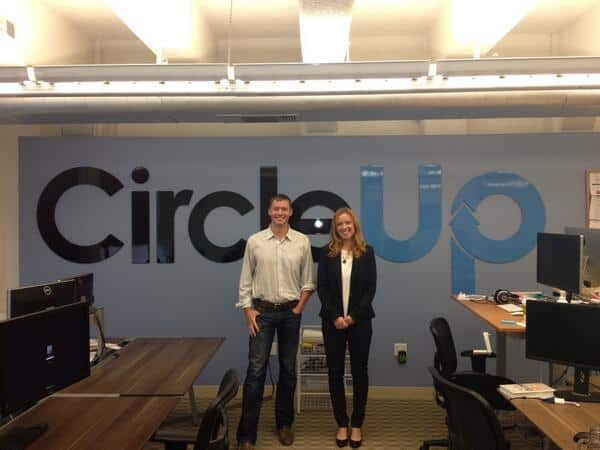 After being freed from the vestibule and entering CircleUp's airy San Francisco office space with CEO Ryan Caldbeck, I settled in for an open and informative discussion on consumer products, leveraging networks and the future of capital formation.
The Vision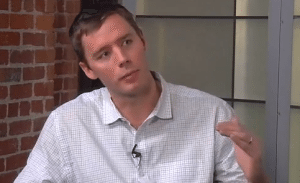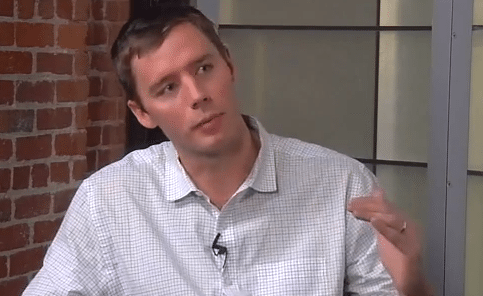 Ryan and several CircleUp team members came from a background in private equity where they specialized in the consumer products space. One huge disconnect they noticed was that although consumer products make up 25% of the economy, they make up a very small percentage of angel and VC investments. By the time a company makes it to the private equity stage, they are required to have at least $100 million in revenue. Thus, there is a long stretch of road from idea to financing for most consumer goods companies. CircleUp is shortening that distance by using an online medium, where consumers are used to making purchases, to allow investors to obtain a piece of the business.
Passionate Brand Advocates and External Effects
In addition to providing necessary capital to small businesses, something very unique is also taking place on CircleUp. Individuals that believe in the businesses and the products they sell become spokespeople and leverage their networks to promote the business and the brand. Ryan used an example of a group of parents that invest in a particular natural baby food brand and then tout it amongst their peers and throughout their social networks. In addition, investors also have specialized skills that they can provide to the companies, such as marketing or finance or they know someone who is in the industry and can provide counsel and advice in an advisory capacity to the company. Ryan noted that in almost every successful campaign on the site, at least one similar scenario has evolved. In this way, CircleUp helps investors be a part of something bigger than themselves.
Zero to Launch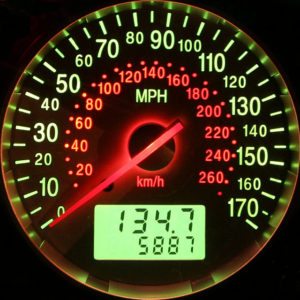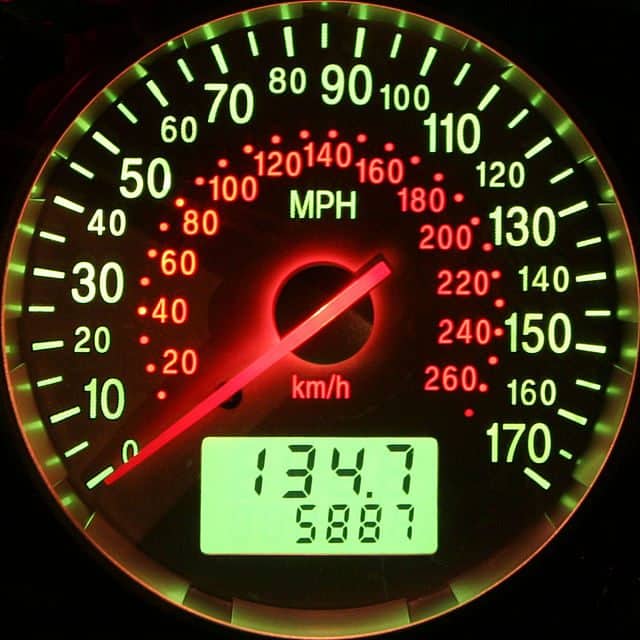 As you can imagine, there is a substantial process prior to a company launching on the CircleUp platform. First there is an initial data screen, whereby the company inputs certain information about itself and that data is scrubbed by certain proprietary data about successful companies that CircleUp has generated as well as against third party data provided by outlets such as SPINS, a CircleUp partner. Next the company must pass the human powered investment committee, made up of CircleUp employees culled from the professional investment community. The committee makes its decision based on the company's financial results and projections, team strength, valuation, competitive set, and product necessity in addition to other criteria. Once the company passes this vetting process as well as some traditional due diligence, it is now ready for the next round of scrutiny, potential investors.
Investor Diligence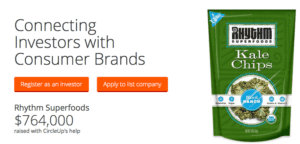 CircleUp encourages investor due diligence in several ways. It provides product samples to interested investors so they can actually test the product and see how it stacks up against the competition. It provides a store locator so investors can go and see the product on the shelves and how it fits into the ecosystem. In addition, CircleUp utilizing this new investment medium allows a chat board feature, enabling potential investors to ask questions of company management and "kick the tires" so to speak. These discussions are available to all potential investors authorized to view the site so that everyone can share in the information gleaned.
Offering Details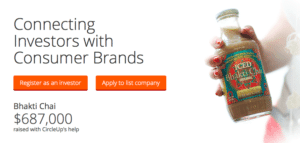 In addition to the discussion forum, investors can review the investor presentation prepared by the company and historical financial results. Most companies already have at least $1 million in revenue, but audited financials are not required. The average raise is $1 million and the securities that are offered are mostly preferred shares and occasionally convertible debt. Investors hold their securities directly in the company and not through a special purpose vehicle, and the company controls the number of investors through the minimum investment amount it sets. CircleUp, being a broker dealer, takes a percentage of the capital raised as a fee and also receives warrants in the companies that successfully raise funds.
CircleUp Partners and Stamp of Approval
In addition to providing capital, CircleUp also provides access to its partners who can assist companies in other ways. For instance Presence Marketing offers a discount to successful CircleUp companies which have basically been pre-vetted by both CircleUp and its investors. Similarly General Mills, Proctor & Gamble and Virgin America have partnered with CircleUp to identify innovation. Virgin America, for instance, uses CircleUp to source potential products for its consumers in the sky. These partners take solace in the fact that these CircleUp successes have been consistently developing a brand, producing products on time and getting results both with customers and from a financing perspective.
Rule 506(b) vs. 506(c): To Advertise or Not
On to one of my favorite topics, the use of Rule 506 under Regulation D. CircleUp allows offerings under both 506(b) (traditional private placements) and 506(c) (use of general solicitation) on its site at the option of the issuer. If the company elects 506(b), it will only have access to a subset of potential investors with which there is a preexisting relationship and may not publicize the offering. If the company elects 506(c) it may be viewed by the general public and can be publicized amongst the company's social media networks. The tradeoff of course, is that if a company uses 506(c), it will have to undertake heightened accreditation standards to ensure that each investor is indeed accredited pursuant to the Rule 501 definition. Ryan noted that at present, people are still leaning toward using 506(b), which both he and I find unfortunate. Rule 506(b) doesn't allow a company to take full advantage of the medium and social networks which can be so powerful. Ryan's further insight is that 506(c) is also better for investors, because as more and more transactions are presented in the daylight (rather than behind screening walls) investors will be able to make true comparisons and more informed investment decisions. Ryan thinks that lawyers (no surprise) who prefer precedent and are reluctant when it comes to utilizing new regulations are partly to blame. He also noted that CircleUp has received little pushback from investors who have been required to provide information confirming their accredited status. Hopefully with time the use of 506(c) will continue to grow and prove a successful method of capital raising.
Title III – Retail Crowdfunding

As for Title III Crowdfunding, Ryan, like many, feel it is not really a viable alternative for small business. With all of the hurdles including audits, ongoing reporting and the $1 million cap amount, Regulation CF puts both the companies and investors that utilize it at a disadvantage. Companies and investors bear all of the additional costs of compliance and cannot even go back to the crowdfunding capital market if the business grows and they need more capital in the same 12-month period. This could quickly become a race to the bottom as companies that cannot get traditional financing or financing from an accredited crowdfunding platform turn to the Title III space.
Final Thoughts
From a fiscal perspective, CircleUp is in a good position. They recently closed on their Series B round with Canaan Partners which followed their A round provided by Google Ventures and Union Square Ventures (note these are the same financiers of Lending Club).
And as food for thought, Ryan noted that the most important factor is the company's performance post-raise – that is where the company's story really begins. I am hoping for many great beginnings (even though technically a circle doesn't have one).
__________________________________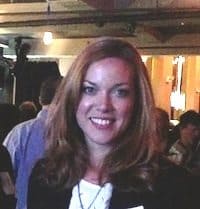 Georgia P. Quinn, a senior associate in Seyfarth Shaw LLP's Corporate department, has spent her career representing public and private companies and investment banks in a wide range of capital markets transactions, including registered offerings and private placements of debt, equity, and hybrid securities. Over the last year, Ms. Quinn has led Seyfarth's Crowdfunding Initiative, helping clients stay at the forefront of the enacted and proposed SEC regulations. Georgia has conducted webinars, presented to the New York State Bar Association's Securities Law Section and the Business Law and International Sections, has been featured on Crowdfund Insider and has been invited to chair a panel on Crowdfunding for the American Bar Association in April. All views and comments above are strictly her own views and do not reflect the opinion or position of Seyfarth Shaw.

Sponsored