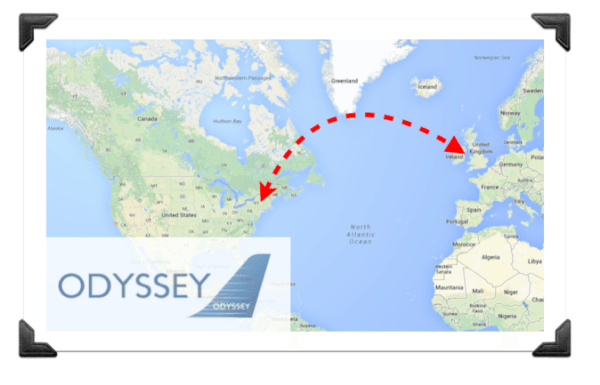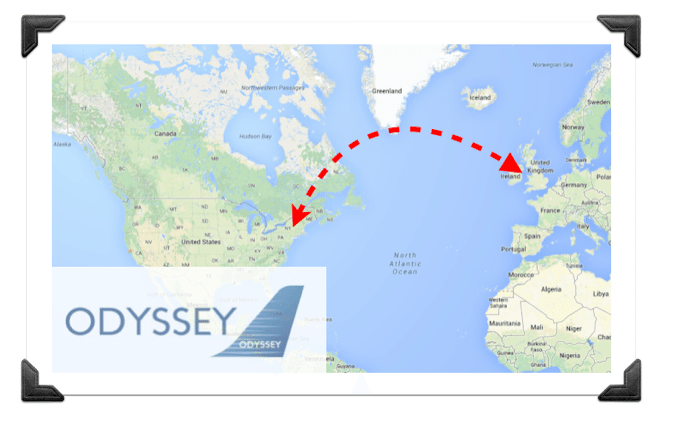 Odyssey Airlines is a UK-based company that wants to offer business class travel, at a decent price, on transatlantic routes. When so many airlines are cutting back on already dismal service – Odyssey is innovating by seeking to provide better service – at a fair value.  Not only is Odyssey setting out to challenge the air travel industry (which is desperately in need of some disruption) they have not been timid in raising capital.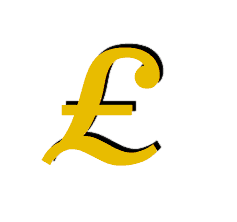 Odyssey is presently offering equity in its young company on Crowdcube in the UK and more recently it was listed on US platform Crowdfunder.  Odyssey is the first ever tandem offer – something that may become commonplace in the coming years. The new airline has listed a pre-money valuation of $34 Million and is seeking a raise of $1 million in the States and £1 million in the UK. Because of this trailblazing approach of listing in two different countries simultaneously-   we reached out to Odyssey CEO  Adam Scott.
When asked why he decided to launch Odyssey Scott stated, "I launched the company out of frustration with business travel today, and knowing full well that using the right aircraft at the right airports provides a unique opportunity to "get it right". Odyssey is all about taking the stress out of travel for the time-conscious traveler and putting the customer at the center of everything that we do."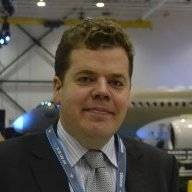 Crowdfunding is a pretty new form of funding, when asked why they decided to go down the alternative finance path, Scott shared;
"Having successfully raised more than £2.1 million in what was the largest ever non-property Peer-to-Peer (P2P) lending at the end of 2013, we wanted to use that success to further develop our "captive audience" and to provide investors with a unique opportunity to participate in a deal that they wouldn't normally have access to. Not only has crowdfunding elevated our profile, enabled us to engage with our would-be customers (keep in mind the average investment thus far has been in the thousands of pounds, with a minimum in the US via crowdfunder.com of $10,000), but it is also a great way of illustrating just how serious we are about doing things differently. We want to take the traditional approaches to starting and running an airline and turn them on their heads. We're going to do things better. Sir Richard Branson publicly endorsed crowdfunding only 2-3 weeks ago, saying that he would have used crowdfunding to launch Virgin had the market been there at that time. We chose to use Crowdcube in the end because it was the largest and most successful equity crowdfunding platform in the UK.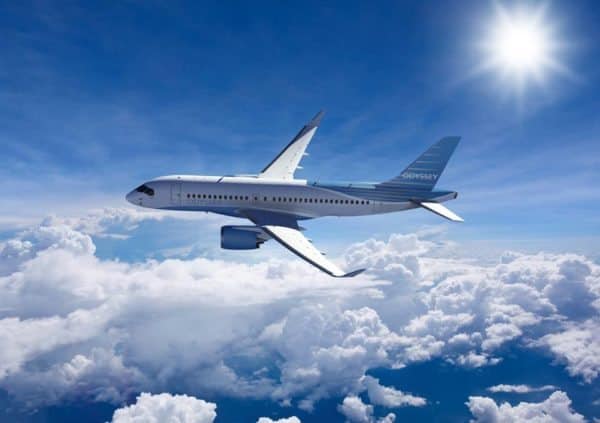 Launching a crowdfunding campaign isn't just an effort in raising capital – it is a process of generating consumer awareness and brand building.  Scott states that "the launch of our campaign in the UK with Crowdcube generated a great deal of press around the world. We were quick to spot that the majority of the traffic to our website was originating from the USA. In fact, on one day that we looked at our site stats, of more than 5000 hits, more than 98% came from the US. In discussions with numerous people in the US, it became apparent that a GBP denominated deal on a UK platform wasn't quite what this market was looking for, and so we wanted to open this opportunity on this side of the pond also. Moreover and strategically, we would prefer to be seen as a North Atlantic carrier, rather than just a British carrier. The fact is that our customers will originate from both sides of the pond, and so we want to ensure we're engaging with as many as possible and as early as possible! We specifically chose Crowdfunder as we wanted to offer the same equity investment opportunity here."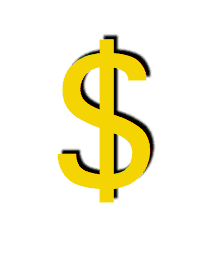 As of this writing both the US and UK campaigns on ongoing.  The UK campaign is scheduled to close in about 2 weeks have raised over £415,000.  In the US the funding round is scheduled to close on July 11th having hit 26% of goal so far. Both campaigns could be extended though as clearly there is investor demand.  If Odyssey can fix today's painful experience of transatlantic air travel -then more power to them.  They hope to offer their new service; premium all-business class flight by 2016.
(Editors Note: This is a first part in a 2 part series.  Next we will get the perspective of Securities Attorney, and Crowdfund Insider contribute Sam Guzik who is representing Odyssey on their US listing)
Have a crowdfunding offering you'd like to share? Submit an offering for consideration using our Submit a Tip form and we may share it on our site!