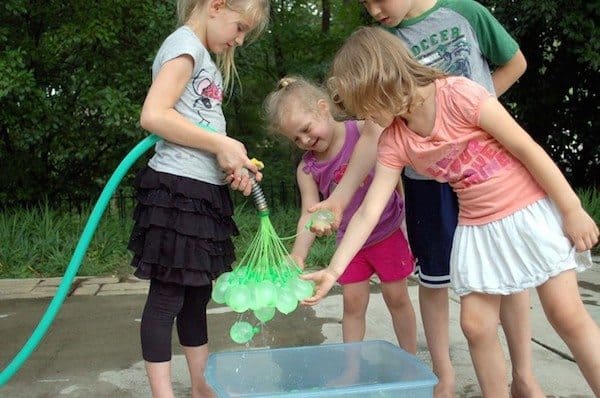 Bunch O Balloons was hoping to raise just $10,000 for simple concept of creating 100 water balloons in seconds.  Recognizing that just about everyone loves a good water balloon fight but no one enjoys filling the balloons with water, project creator Tinnus Enterprises tapped into incredible consumer demand with their patented product as the crowdfunding campaign funded in just 12 hours and now 5 days laster has raised over half a million dollars.  At last look more than 13,700 backers have contributed over $523k. Pretty incredible.  If the funding velocity continues this one will easily join the million dollar crowdfunding club.
Organizers gave a brief update today as they the supporters continued to pore in;
Hi Team,
And…we've reached the biggest milestone yet. We're at $500,000 – how awesome is that? Hope all of you have had a wonderful weekend and are enjoying a relaxing summer Sunday.
We'll be announcing the results of our poll for the color stretch goal tomorrow. Right now, purple is in the lead with 42 percent of the vote. Keep it up guys, and we'll announce the color options tomorrow. If you haven't voted yet, make sure you do so HERE.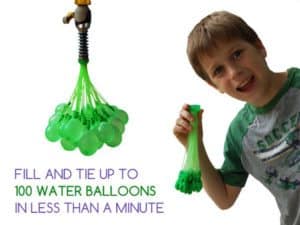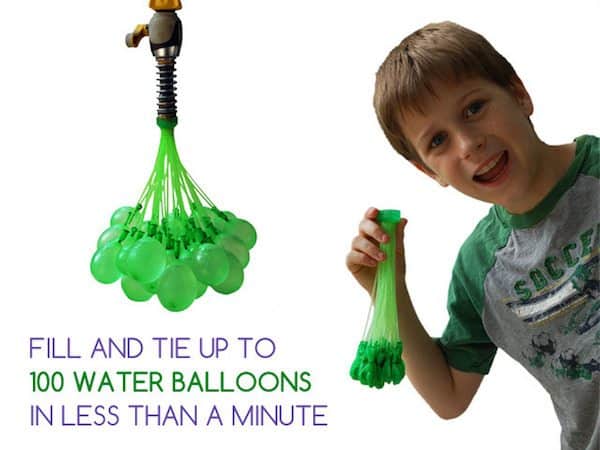 Early backers will be able to enjoy high volume water balloon fights this summer but with the amount of orders coming in now, it appears later backer will have to wait until 2015 for their very own water balloon war.  The Bunch O Balloons is available "for licensing and distribution", according to the Tinnus web site perhaps the company may get some outside support to speed up shipping.   Production capacity is described on the campaign page;
July 2014 to September 2014: Manual line with capacity of 200 packs (20,000 balloons) per day
October 2014 to March 2015: Semi-automated line with capacity of 2,000 packs (200,000 balloons) per day
April 2015: Automated Line with capacity of 20,000 packs (2 million balloons) per day
The Bunch O Balloons is environmentally friendly as the balloons are biodegradable and the plastic meant to be recycled. So what better way for a family to spend a sunny summer afternoon than a water balloon battle?  Now if only we can get a stretch goal set for delivery this August..
Have a crowdfunding offering you'd like to share? Submit an offering for consideration using our Submit a Tip form and we may share it on our site!