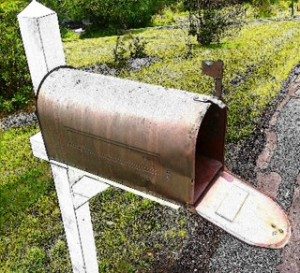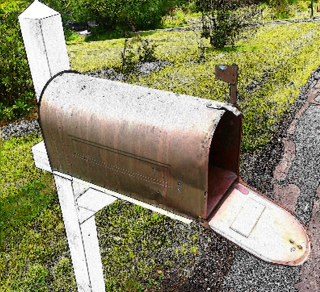 For those of you interested in the crowdfunding space there is an interesting movement afoot. Retail  equity crowdfunding, a form of investment that is not limited by wealth or income, was signed into law way back in 2012. The regulatory process has dragged on though – so most of the population cannot invest in equity crowdfunding.  Title III of the JOBS Act has more than a few flaws but these challenges can be fixed by the regulators at the SEC – if they decide to do so.  So if you are interested in receiving equity instead of just rewards be certain to contact your Congressman  / Senator and let him know. Retail investment crowdfunding is good policy that has been delayed by parochial politics and special interest groups.  Hopefully the regulators will get it right the first time.
Now stepping back from the pulpit lets check out some crowdfunding campaigns.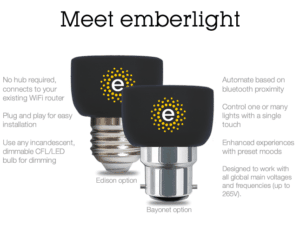 First up we have emberlight.  After watching the pitch video it was easy to see why almost 2000 backers have already supported this project.  Simple, elegant and very easy to use. The internet of things (IoT) is quite the chatter but in the real world our interconnected existence is only slowly becoming ubiquitous.  emberlight turns any light – into a smart light.  No hubs required – just your smartphone.  The features really make sense.  Simple lighting controls, automated timers, remote access and proximity awareness.  Works with any dimmable lightbulb.   You can even "rise and shine" with lights that increase brightness like the morning sun.  Crowdfunding on Kickstarter now this campaign has easily passed its $50,000 goal and is well over $200,000 today.  Scheduled to ship this coming February.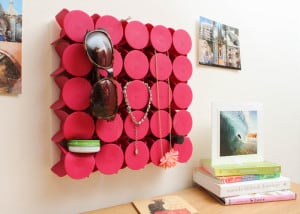 Geco Hub is a project by Simon Lyons in Loughborogh, UK.  This is his second shot at crowdfunding Geco Hub as he ran a crowdfunding campaign this past April that did not generate sufficient momentum and thus was cancelled so Simon could regroup and launch again.  Crowdfunding on Kickstarter, Simon has set a target raise of £23,000 – in contrast to the £35,000 he attempted to generate in his first campaign.  So what is Geco?  It is a modular storage system that really makes sense.  Yes many of us have lots of "things" that we need to use regularly that end up sitting in bowls, tables or under a couch.  Geco Hub is a simple solution to create more order in your life by making things like keys  more accessible.  If Simon does not find success this time, Geco Hub is a perfect candidate for Quirky.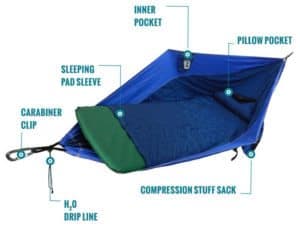 There have been tons of great camping / outdoors crowdfunding campaigns on both Kickstarter and Indiegogo. We have seen several really cool Hammock campaigns but this one may be the best.  I am not much of a backpacker anymore, but I recall the days when sleeping on the ground was an adventurer but not very comfortable. If I had one of the Adventurer Hammocks today, I know I would look back at my camping experience in a more positive light.  The Adventurers Hammock is perfect for the outdoors type. Convenient, practical and comfortable this hammock is designed by those who know their stuff.  Crowdfunding out of Tahoe in California, Bakpocket products has tons of great camping gear on their site.  It is their mission to bring functionality to daily lives and promote appreciation of nature's beauty.  They are leading the charge by crowdfunding their Hammock on Kickstarter now.  Bakpocket is hoping to raise $20,000 and they are nearly there.
___________________
emberlight: turn any light into a smart light – Kickstarter
Mold your lights around your life. Control any dimmable bulb with your existing WiFi and phone. Automate with proximity awareness.
emberlight fits to you and your life
Easy to setup. No wiring required. No hub required. Simply add emberlight to any light bulb and it's installed. Our mobile app steps you through the simple WiFi connection.
Easy to use. Once installed,our free app gives you on, off, and dim control of your lights through your smartphone.
Easy to understand. emberlight uses the light bulbs and sockets you already own.
Geco Hub – The Colourful Way To Stop Losing Things – Kickstarter
Geco Hub – The colourful organiser that bends over backwards to make sure you find what you want, when you need it.
Geco Hub is the one-stop grab-and-go storage spot which takes loving care of your important things. It saves you from wasting time and getting stressed looking for your keys, phone and more.
Adventurers Hammock – Use a Hammock, Lose the Tent – Kickstarter
Trash the tent & sleep like a king in our hammock, equipped with a pillow pocket, sleeping pad sleeve & head-to-toe zip-in closure.

A true testament to the term "made by outdoors-men for outdoors-men" the Adventurers Hammock has been equipped with a pillow pocket and an innovative sleeping pad sleeve that can hold a variety of sleeping pad sizes to suite anyone's needs.

Material:

The foundation of every Bakpocket hammock is its material, which is ranked in durability, strength and comfort. With this in mind, we have chosen 100% high-strength parachute material for our extensive line of hammocks.

Currently on the market, there are many different polyester blend hammocks focusing only on having a small compression size to their hammock. It seems that their goal is compression instead of durability over time, strength and comfort. Using these concepts to construct a quality product, we have focused on producing the ultimate hammock that is resilient enough to be used in any situation; indoors, outdoors, in the backyard and or in the backcountry.

Have a crowdfunding offering you'd like to share? Submit an offering for consideration using our Submit a Tip form and we may share it on our site!

Sponsored Links by DQ Promote