Financial research group Beauhurst, a company that has been tracking the boom in UK equity investments has noted that the credit crunch of past is no longer holding back growing companies. To quote the company, growth companies are seeing a "massive surge in popularity among investors in 2014".  The jump is pretty dramatic too – The sector hit 10% of all UK equity investments in H1 of 2014 – double the 5% in preceding years.  At least a portion of this boom is driven by investment crowdfunding.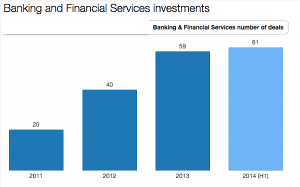 George Osborne, the Chancellor of the Exchequer, has been a champion of financial innovation and believes the UK can- and will – lead the rest of the world in the FinTech revolution.  The Chancellor hasn't been bashful with his approach either, as he was recently quoted outright "I want the UK to lead the world in developing FinTech".  No mincing words there – something that is quite rare for politicians I might add.  The words have been followed up with some action as exemplified in the recent " Innovate Finance" group.  This new entity has captured the support of many of the P2P and crowdfunding leaders.  While the journey has just begun, the initial indications are pretty positive in the UK.
Beauhurst comments on recent investments that; 
"The majority of these investments were into 'FinTech' companies, i.e. those with a software or internet element combined with a financial services slant. This gives weight to the Chancellor's recent claim in a speech at the launch of new regulatory body 'Innovate Finance' that FinTech is the space to watch."
Beauhurst continues to mention a couple of promising startups including Landbay that recently raised capital on Seedrs.
To close Beauhurst proclaims; "Perhaps the Chancellor really has backed the right horse" – FinTech does have an encouraging lead in the UK – and probably the world today.  Only time will reveal whether this lead will continue.