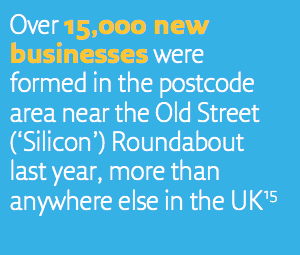 The Coalition for a Digital Economy (Coadec)  published earlier this month "The Startup Manifesto" outlining their vision of a UK economy powered by innovation and technology.  Founded by tech entrepreneurial types, Coadec wants the UK to be the best place in the world to launch and grow digital startups.  This is part of a growing British theme that embraces small business and facilitates capital formation with a light touch regulatory approach.  This has been partnered with vocal political leaders willing to lead the charge.
Recently the Chancellor of the Exchequer, George Osborne, announced an initiative called Innovate Finance – stating, "I want the UK to lead the world in developing Fin Tech".  The Innovate Finance movement was embraced by many FinTech leaders including some big names in crowdfunding and the peer to peer lending space.
Coedec recognizes that a single victory does not win the battle. The group is determined to challenge the leadership and population to build upon a growing foundation of economic growth, fostering a new blossoming digital creative class of entrepreneurs.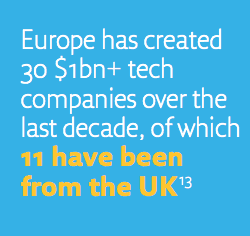 The published manifesto has generated broad support from startups and investors across various industries.  In surfing the list it contains a who's who of crowdfunding leaders including; Crowdcube, BloomVC, Funding Circle,CrowdBnk, Zopa, Seedrs, RateSetter, and more.
To editorialize for a moment: The UK pushes forward in financial innovation meanwhile the United States struggles with a broken regulatory process encumbered by parochial politics that damage the economy in the near term that could engender profoundly detrimental consequences for the future.  Leadership means challenging established methods and vocally embracing change. Bravo to those in the UK willing to lead the way.
Equity crowdfunding platform Crowdcube recently stated;
"Crowdcube was set up to put the control of financing a company firmly in the hands of entrepreneurs, by using their own network of friends, family, customers and the wider crowd to raise the funds needed to start or expand their business. With a passion for supporting start-up businesses, we're pleased to get behind The Startup Manifesto in its endeavour to help influence how the government can support digital start-ups in the UK."
Highlights for the manifesto are listed below, the the entire document is embedded as well.  Hopefully, one day, the US will find a political leader that can embrace similar common sense objectives and lead the country forward.
Improve access to finance
 Commit to keeping SEIS and EIS tax reliefs for the next Parliament
 Bring back tax reliefs for Corporate Venture Capital
 Remove the cap on Entrepreneurs' Relief and lower the equity threshold
Improve access to talent
Restore post-study work visas for STEM graduates
Make it easier for startups to hire from overseas
Reform the Graduate Entrepreneur Visa
Open up the Entrepreneur Visa to those with funding from angel investors and crowdfunding platforms
Review and streamline visa processes with the support of the Government Digital Service
Invest to help teachers deliver the new computing curriculum
Create incentives for individuals and startups to help train teachers and students
Promote free tools including Moocs, Codecademy, and third sector initiatives like code clubs
Build world class digital infrastructure and increase supply of affordable office space
Continue to invest in superfast connectivity and raise the level of ambition for digital infrastructure
Review the planning system and property regulations to increase the supply of affordable office space for startups
Bring laws and regulations into the 21st Century
Make it government policy to support disruptive innovation and create an environment where people and businesses can adapt
Encourage permissionless innovation
Commit more resources to the Information Commissioner's Office (ICO)
Create a framework for data protection that gives confidence to consumers and does not stifle innovation
Continue to support fintech innovation
Review regulations surrounding collaborative consumption and the 'sharing economy
Use digital government to unlock innovation
Make it easier for startups to sell to government
Commit to keep and expand the Government Digital Service
Create standards for secure online identity assurance
Accelerate progress towards 'Government as a Platform', including releasing APIs for government service
Go further on open data, including real-time performance dashboards for all government services
[slideshare id=38635792&doc=84zpdp2ttenb7l9xxdgw-signature-7a1fd8c68bf04a356f3517ef5d36e8c79299ba4a91a5a237b65eaeae8d5a1767-poli-140903035325-phpapp02&type=d]

Sponsored Links by DQ Promote