CrowdStreet, a real estate crowdfunding platform, shared today it had closed an $800,000 seed round led any Green Visor Capital and Seven Peaks Ventures. The funding round also saw participation by the Portland Seed Fund.
CrowdStreet CEO Tore Steen said of the new funding;
"CrowdStreet has already posted properties exceeding $100 million in total property value that provide investors a variety of both income or growth-oriented investment opportunities. Today marks an exciting milestone for the company as we enter a new phase of growth with the financial backing and an experienced leadership team to support our expansion, said Steen, CrowdStreet's mission is to provide the most trusted and reliable real estate investment marketplace designed to simplify transactions between accredited investors and institutional-quality real estate developers and operators,"
CrowdStreet offers accredited investors access to "institutional-quality" commercial real estate investment opportunities through an online marketplace. Investors may easily find suitable investment opportunities, manage offers, track investment performance and build a portfolio of commercial real estate investments – at no cost to the investor. Investors can search the CrowdStreet marketplace to find and select pre-screened commercial real estate opportunities by product type, geographic region and targeted return.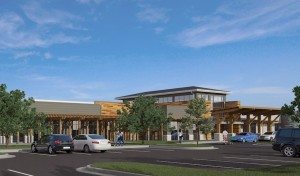 This past July, CrowdStreet completed its first public posting on behalf of Mainstreet Bloomington to fund a 66,197-square-foot care and rehabilitation facility with 100 recovery suites. Mainstreet raised $1.6 million in just four weeks validating the process for Mainstreet operators.
Michael Walsh, partner at Green Visor Capital stated;
"We invested in CrowdStreet because of the team's hyper-focus on the institutional real estate market, where accredited investors want to put their money," said Michael. "They have attracted a high caliber of investments out of the gate and we believe this strategically differentiates CrowdStreet from its competitors. The founding team's deep experience in commercial real estate, securities, consumer Internet and software development is the right mix of expertise and pedigree to give them an edge in fundamentally changing the way accredited investors invest directly in real estate, and the way high-end developers and operators market their investment opportunities."
As part of the new investment Dino Vendetti, general partner at Seven Peaks Ventures, and Simon Yoo, managing partner at Green Visor Capital, have joined the Board of Directors. Additionally, CrowdStreet has added two key executives: Ian Formigle as vice president of Investments and Steve Drew as vice president of Product and Marketing.

CrowdStreet, based in Portland, Oregon, was founded in 2013. 

Sponsored Links by DQ Promote