In 2012, Dresden Dolls bandmate, Amanda Palmer, took to Kickstarter to raise $100,000 for a new record; her new book, The Art of Asking; and a tour. Not only did she surpass the initial goal, by the end of her crowdfunding campaign's run on the platform, she scored $1,192,793 from 24,883 backers. Now the 38-year-old is sharing details about her crowdfunding experience.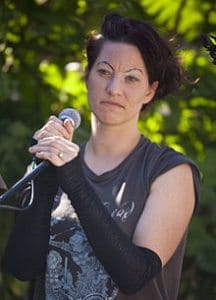 While chatting with Billboard magazine about why she turned to crowdfunding, Palmer stated, "I weighed that really carefully, but I decided to go with a publisher with no regrets. I didn't want to spend my year running a crowdfunding campaign and a small publishing house. I wanted to spend a year writing a book. I don't have anything philosophical against publishers, labels, marketing companies. In fact, I think artists should choose from the smorgasbord and choose what they need at any given moment."
Discussing her time not only on Kickstarter, but also PledgeMusic, Amanda noted, "If you're successful at crowdfunding, there is a cost to transparency and there is a multitude of pros and cons that go along with exposing to the world what you are grossing, especially if you're also taking the time every day to explain what you're netting. You could say there's no point in being transparent or you could say some people just don't understand math and the difference between a gross and a net, and that's simply part of the deal."
Also explaining the controversy she experienced after critics cried foul when she asked for volunteers to perform on her tour for free,  Palmer said, "That event was the fuel I needed to write this book. As painful asit was, I was hoping maybe if someone doesn't get this, I can make them understand that [life] isn't just about money and it isn't just about success and it isn't just about who's f*cking coming into first place."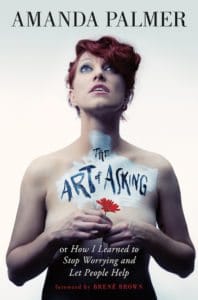 In regard to her questioning her authenticity through the book, Amanda added, "That particular thread of self-doubt, Fraud Police, Impostor Syndrome, dissecting my own place in the universe, has been a project that I embarked on in my teens. This is one story I wish I'd put in the book. I remember telling Anthony when I was 14 or 15 years old: 'I feel like a total narcissistic failure of a human being because when I'm sitting under a tree on a beautiful summer day, reading my amazing poetry book, all I can think of is how wonderfully romantic it would look if someone walked by, seeing me sitting under the tree reading my romantic poetry book. I'm a completely inauthentic person and I can't enjoy the moment!'
"Anthony's answer to my little freaked-out teenage self — and my answer to my current self, because I still live in that bubble of self-consciousness — is all you can do is be aware of it. That's it. I'm still vain and I still am fascinated by my own vanity. The ability to simply sit in your own skin and feel what you're feeling and accept yourself is one of the gifts that Anthony gave me that I had to find my own way to."
Have a crowdfunding offering you'd like to share? Submit an offering for consideration using our Submit a Tip form and we may share it on our site!