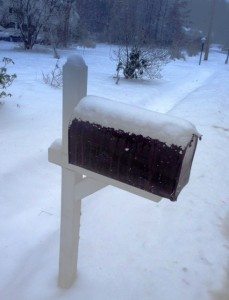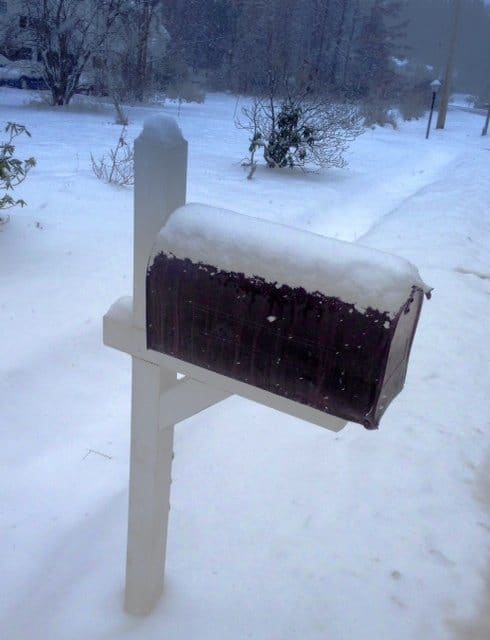 I continue to be amazed and awed by the creativity and innovation exemplified by crowdfunding campaigns and the creators that launch them.  Crowdfunding has become a catalyst for young businesses and startups that are seeking not only capital but market validation.  This week for the crowdfunding mailbox we have Tobacco Motorwear – gear for the motorcycle enthusiast, Pantelligent a smart pan for the chefs among us and make any desk (or wall) a dry-erase work space with Wrap.
So many moons ago I was riding my motorcycle when "the other driver" did not see me and ran a stop sign.  As one person who happened to ride by soon after the inevitable results of the collision stated, "you learned very quickly the correct way to lay down a motorcycle".  This may have been one lesson I could have skipped altogether, but I was fortunate enough to be wearing loads of heavy clothing and heavy boots that were willing to take most of the punishment (the bike did not fare so well and ended up in cycle heaven).  So in watching Tobacco Motorwear this product immediately hit home.  Kevlar lined jeans that deliver cool style combined with second skin safety is perfect for riders.  Sure there are plenty of other options in the market today but this is the first pair of US made kevlar lined jeans I have ever seen.  Now if you have absolutely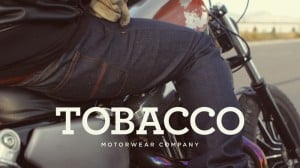 any doubt these things work, creator David Ackerman put them to the asphalt-ass test by actually dragging himself behind a bike and showing the results.  Watching this video is reason enough to visit the crowdfunding campaign on Kickstarter and picking up a pair of jeans.  Crowdfunding now and fully funded.
So what does a guy with an MIT Engineering Degree who operates an electronic design software company that makes it easy to design circuits do with his spare time?  Well if you are an aspiring chef and foodie you design the smart frying pan of the future and launch a crowdfunding campaign on Kickstarter.  So why has no one else created a device like this before?  A pan that measures cooking temperatures and partners it with an iPhone App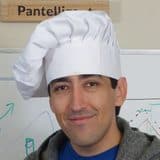 so you are guaranteed perfect results every time..  Obviously Humberto Evans asked himself the same question and decided to be the one person to create this needed.
The complete team is four MIT engineering grads, and the Pantelligent has received funding from Y Combinator—Paul Graham is reportedly a big fan—and the company has already sourced all of its manufacturers for production.  So this one is a definite go.  Soon to be available in all high end kitchen stores soon (at a much higher price than the Kickstarter campaign of course).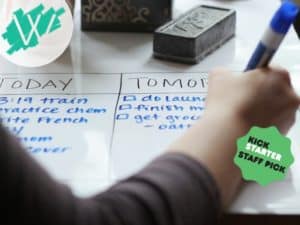 Wrap wants to redefine your workspace as a more creative and collaborative environment.  And how is Wrap going to do this?  Creator Brandon Shaw has developed a custom flexible film that turns your entire desk or  shared table into a dry-erasable brainstorming canvas.  This really makes sense. I love my cool stainless desk top but I hat the clutter of the pieces of paper that inevitably end up scattered about with quick notes.  Similar to the restaurants the let kids draw on paper tablecloths, Wrap is the perfect solution for the rest of us for quick mock ups and note taking.  Once you are done simply wipe it away and re-use again.  Concerned about the adhesive damaging your  fine grained wood?  No problem.  Wrap easily and cleanly peels off and is re-usable.  Kudos to Brandon Saw who is an undergrad at UPenn.  I am certain he has plenty of other things to do in his spare time instead of bringing practical and affordable tools to help others be more productive.  Now the Kickstarter Staff Pick has generated so much interest Brandon now states he will may be able to move up delivery dates. Originally scheduled to ship in early 2015, Brandon is now looking at shipping before the end of the year.  Maybe in time for the Holidays.  Support this crowdfunding campaign and you will find out.
Premium motorcycle apparel, handmade in the USA, crowd sourced and delivered to you at wholesale. Starting with our 5 pocket jeans.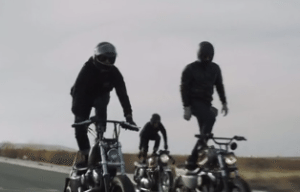 Riding a motorcycle in LA is amazing. Besides the obvious thrill that accompanies cruising around on an engine with a seat and wheels, zipping through standstill traffic and parking in the tightest of spots makes life in this city a tad less insane. But, after a few close calls with less-than-alert drivers, I decided I wanted to up my safety game with some solid protective riding gear.
What I found was frustrating. Most riding gear falls into two categories: unflattering, inconvenient, high visibility gear that just doesn't look right on a custom bobber, café racer, or vintage/retro cruiser; or, lifestyle motorcycle gear that looks ok but is outrageously expensive.
I took my problem to some friends in the LA fashion world and they agreed, you shouldn't have to sacrifice style for safety. So we teamed up to design and produce great looking apparel for motorcyclists, that doesn't look like "motorcycle apparel," and Tobacco Motorwear Company was born.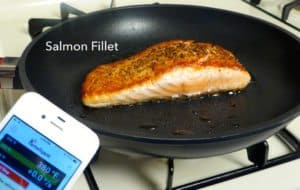 The smart frying pan of the future. Now anyone can cook delicious meals perfectly. The secret ingredient is temperature control.

Frying pans have barely changed in thousands of years, but Pantelligent is the next evolutionary leap in the kitchen: a frying pan that actually helps you cook. Pantelligent has a temperature sensor inside it that communicates with the Pantelligent smartphone app. Together, the pan and the app guide you to cook everything perfectly, just the way a professional chef (or your mom!) would cook it. No more overcooked, undercooked, or burned food. You'll know exactly when the pan is at the right temperature, when it's time to flip or stir, and when your food is perfectly done.

Wrap is a flexible film custom cut to fit your desk that makes the entire surface dry-erasable. Your desk is more than a level surface.

We spend a lot of time at our desks. Office workers, students, executives, we're working at them all the time. But we never thought of them as anything other than a level writing surface. Until now.

Top companies like Google have been implementing "collaborative workspaces" in their offices, filled with dry-erase surfaces to improve their employees' creativity, collaboration, and efficiency. Now, we're making this available to you.

Have a crowdfunding offering you'd like to share? Submit an offering for consideration using our Submit a Tip form and we may share it on our site!

Sponsored Links by DQ Promote