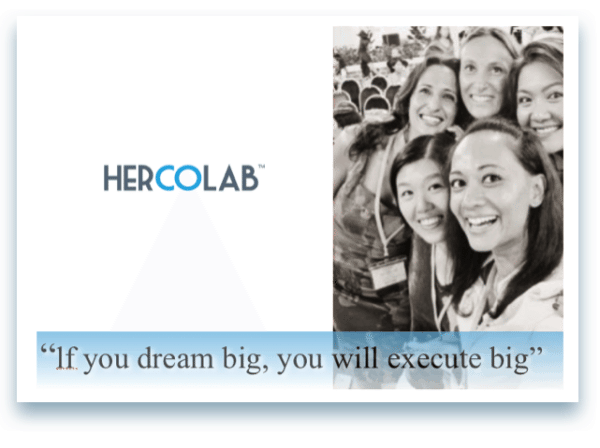 Woomentum, a crowdfunding & crowdsourcing platform for female entrepreneurs, has just launched a sister site called HerCoLab.  Woomentum is the creation of Mouna Aouri, an engineer and mother of two based in Singapore.  Woomentum's mission is to support women during the most challenging phases of their entrepreneurial journey.  As we all know, making the transition from concept to actual business can be quite a struggle.  Woomentum has also organized a local meetup called CrowdfundHerLive, a crowdfunding event for startups by women that has generated some success. Now Mouna is taking things a step further with the launch of HerCoLab – a site she sees growing outside the confines of Singapore, Asia and beyond hoping to become the Quora for women.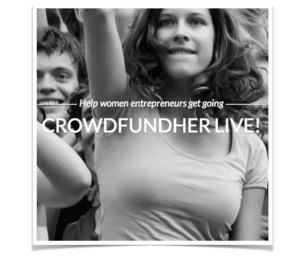 Crowdfund Insider had the fortune to meet Mouna during a trip to Singapore last year where we were impressed with her drive to become a catalyst for female entrepreneurs everywhere.  Mouna has global ambitions to match her global perspective.  Recently we caught up with Mouna and she shared some insight into her vision for HerCoLab, along with considerable wisdom for all women entrepreneurs.
---
Why did you launch HerCoLab"
Mouna: I wanted to create a collaborative space where female entrepreneurs could connect with female experts and solve challenges together in a supportive environment. Have you ever noticed that women are much less likely to ask questions or give advice on platforms like LinkedIn or Quora? It's not because women lack the necessary expertise; it's just that sometimes, they lack a little bit of confidence. This is where HerCoLab comes in. I want HerCoLab to become a trusted community where women can share their expertise and learn from one another.

HerCoLab is actually part of a larger crowdsourcing initiative called Woomentum, which gives female entrepreneurs access to the funds and resources they need in the early stages of their business. Women are very good at building communities and encouraging one another, so crowdsourcing is the perfect opportunity to bring all these smart, talented and generous women together.
I envision HerCoLab as a hub of opportunity for women from all professional walks of life – whether they are just launching their first business or have fifteen years of work experience. Entrepreneurs can use the platform to ask questions and receive the expertise they need to grow their business. Experienced professionals get the chance to give back by sharing their knowledge, while young professionals can build up their confidence by being exposed to inspirational women. When women collaborate, support and inspire each other, it's a truly powerful thing, and this is the dynamic community that HerCoLab is aiming to create.
What has been your biggest challenge so far?
Mouna: I think my biggest challenge is having to justify why HerCoLab is a women-only space. I've spoken to a lot of men who are eager to participate in HerCoLab and who say they don't understand why they're being excluded. I always explain to them that it's not about excluding men, but about providing women with a supportive environment where they can realize their full potential.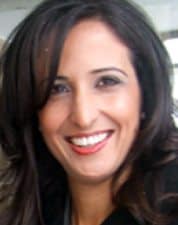 So many men out there are wonderfully supportive of the women in their lives, and I want to emphasize how important their solidarity is in order for women to succeed. However, the reality is that we still live in a male-dominated society, so there is no necessity for men-only groups; and this is precisely why women-only spaces are so essential.
When women get together to discuss their common challenges, hopes and fears, this creates a unique circle of trust among them. Within this circle, women don't need to explain themselves to anyone – they can just be themselves. Every day, it's a challenge to make people understand why it's so important to foster this kind of nurturing environment; but it's an obstacle that I'm determined to overcome.
What is your advice for women who want start their own business?
 Mouna: Think big.
lf you dream big, you will execute big. It's as simple as that. So many women tell me: "I'm not a businesswoman, I'm just doing this on the side." Never put limitations on who you can be and what you can achieve. If you're trying to start your own business, then you're a businesswoman. Own it and embrace it.
 Don't feel guilty about using your own money.
I've spoken to a lot of women who feel guilty about using family money to build their business. This is a guilt that is very specific to women, and it's time to let go of it! Remember that you're investing in your company and you'll get a return on that investment. The value of your business will only increase if it's done well, and often you can only achieve that by bootstrapping until you take your idea to the product level. Don't let guilt over money be an obstacle to achieving your dreams.
Ask for help.
No one likes asking for help, but the truth is: you just can't do it alone. Getting the right expertise is crucial for any successful start-up, so you have to be brave enough to admit when you need help. It's okay if you don't always have all the answers! Don't be afraid to ask for the help you need in order to overcome a challenge and move your business forward.
Fight for your sleep.
Sleep deprivation is a huge problem for women, yet no one talks about it. Working women with young children can easily accumulate 3 to 4 years of sleep deprivation; can you imagine the damage that causes in the long run? Women can't operate at their full potential if they are consistently sleep-deprived. We schedule time for everything else in our lives, so why aren't we making sleep a priority? It's time to start fighting for your sleep – whether it's by checking into a hotel or grabbing earplugs and taking a quick nap on the other side of the room.
What is your biggest source of inspiration?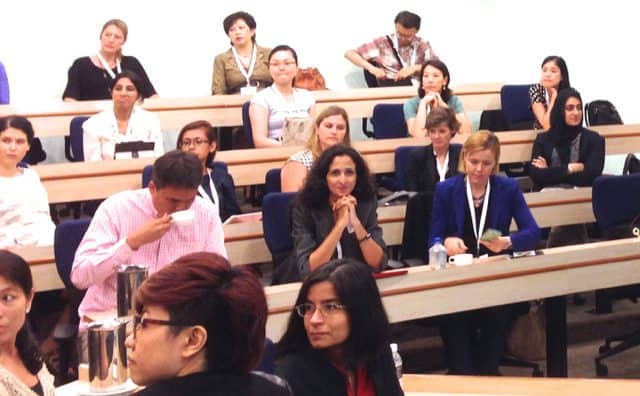 Mouna: First of all, I'm driven by my vision of a world where HerCoLab will be so successful in its mission that it won't need to exist anymore. I picture a world filled with confident women who are all out there realizing their dreams and living to their full potential, and this is what keeps me going.

Secondly, I draw my inspiration from all the amazing women I've met while building HerCoLab and Woomentum. I've had the privilege to meet so many courageous women who truly embody what HerCoLab is all about. These women can sometimes be vulnerable, but their strength and fierce determination to overcome their challenges is what really shines through. I've also been stunned by their endless generosity in sharing their knowledge and expertise with me. Tapping into this wonderfully collaborative spirit is what inspires me every day.

What advice would you give to women who want to start a business, but are worried about their family responsibilities?

Mouna: If you want to get out there and do something, you need to fight for it – even if it means fighting yourself. We are often our own worst enemy, especially when it comes to feeling guilty about leaving our family behind. But if you don't fight for your dreams, the guilt will be replaced by something just as toxic: regret. I miss my children every moment I'm not with them; but what keeps me going is the knowledge that when they grow up, they will see that their mother lived life on her own terms, and that is the best example I could hope to set for them.

For women who don't have partners yet, my biggest advice is to choose someone who will support you in being yourself and leading the life you want. This is one of the most important choices you will ever make. If you want to pursue your dreams, don't compromise on your life.

Sponsored Links by DQ Promote