With nearly two and half weeks until its crowdfunding campaign on Kickstarter comes to an end, Monolith Board Games' new game (inspired by Robert E. Howard's tales) Conan has raised over $1 million thanks to nearly 7,000 backers.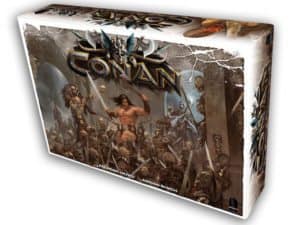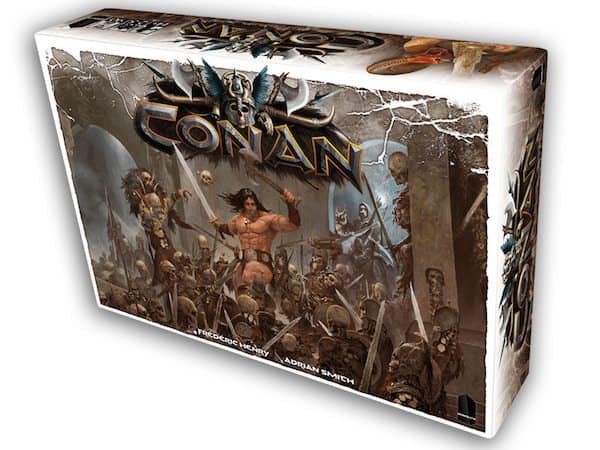 As previously reported by Crowdfund Insider, Conan is described as a miniature-based board games that pits on player, the overlord, who controls hordes of savage tribesman, no-good lowlifes and undead minions against 1 to 4 players who incarnate the legendary Conan and his fellow adventures. the Monolith team noted, "The gameplay is [asymmetric], as the overlord possess a large selection of models and objectives which are his own, whereas the brave heroes are played from a first person perspective, much like in a role playing game (RPG)."
The games contents include:
4 sets of heroes, leaders, and character sheets
6 allies
5 sets of monsters, hyenas and archers
15 sets of pict hunters, pirates, and guards
43 tiles
25 counterbases
1 set of overlord dashboard and turn counter sheet
Over 80 tokens
60 plastic gems
9 engraved dice
55 cards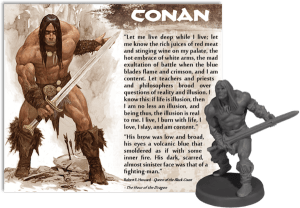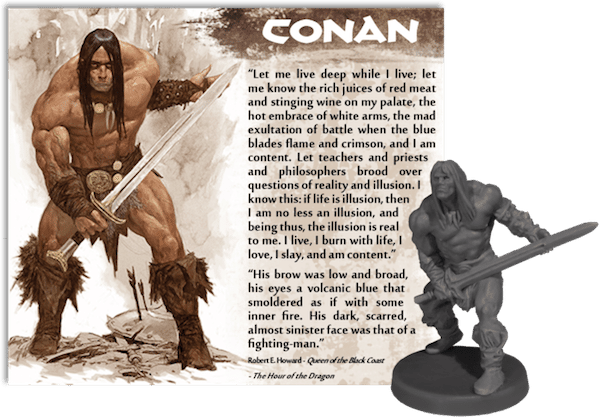 Monolith Games recently announced that more pieces of the game have been unlocked, including a new monster, and more equipment to battle with. "Now, let us be serious for a moment. We at Monolith had a good think about what was missing from the game, how we could make it better and then it hit us: Torch stands. Because if you can't set your enemies on fire, then what's the world coming to? Plus, the Torch Stand (or chandelier in French) has quite a… history, during some of our tests game of Conan. I think there are about 5 pages of forum chatter dedicated to it somewhere on TricTrac!"
The game maker also unveiled a new characters, Balthus and Slasher, as an unlocked item and also as part of Howard's 109th birthday celebration. "This one is all about you guys. Now I don't know the man (I'd have to be very old otherwise) and I don't know much more about his life than most of you, but I can only speculate that he would be immensely touched to see such a HUGE show of support for his legacy on the day of his birthday."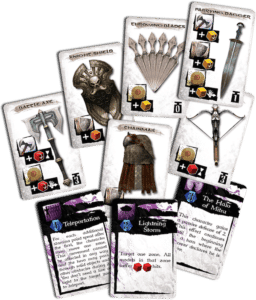 Explaining the characters, the team shared, "These are two very significant characters in Howard's tales of Conan. Why? Because they are the incarnations of Howard and his real life pet in the barbarian's world. Therefore, I don't think we could make a real R.E.H. game of properly celebrate his birthday without including these two.
"'He was a young man of medium height, with an open countenance and a mop of tousled tawny hair unconfined by cap or helmet. His garb was common enough for that country – a coarse tunic, belted at the waist, short leather breeches beneath, and soft buckskin boots that came short of the knee. A knife-hilt jutted from one boot-top. The broad leather belt supported a short, heavy sword and a buckskin pouch. There was no perturbation in the wide eyes that scanned the green walls which fringed the trail. Though not tall, he was well built, and the arms that the short wide sleeves of the tunic left bare were thick with corded muscle.'"
Have a crowdfunding offering you'd like to share? Submit an offering for consideration using our Submit a Tip form and we may share it on our site!