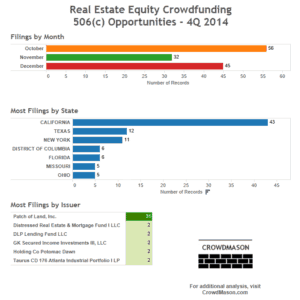 Real estate crowdfunding platform Patch of Land has apparently had a nice 2014. Granted things are just revving up this year after an eventful 2014, but the investment portal recently shared that in Q4 of 2014 they topped the list of SEC filings for 506(c) offerings.  Now for those of you who are not quite clear on the jargon, 506(c) has to do with accredited crowdfunding. This is the portion of the JOBS Act that legalized "general solicitation" and thus effectuated online investment offers pitched the the (accredited) crowd.  Rule 506(c) went into effect in September of 2013 so utilization of the new exemption are just picking up speed.
According to Patch of Land, using data from CrowdMason, "Patch of Land [is] leading the way with 31 filings in 4Q 2014. The amount of filings by Patch of Land represents 23% of the 506(c) opportunities during the final quarter, and is more than Texas, New York, and Florida combined."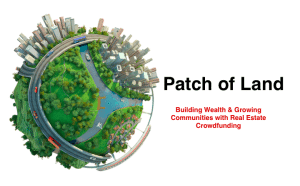 The information continues by saying 2,971 506(c) filings occurred since September 2013 until the end of 2014.  Real estate is a leading category leveraging the new exemption. This is something that should come as no surprise for industry followers. Real estate represented just under 20% of 506(c) transactions.
Another prediction for 2015: The number of real estate transactions publicly raising capital will grow dramatically.