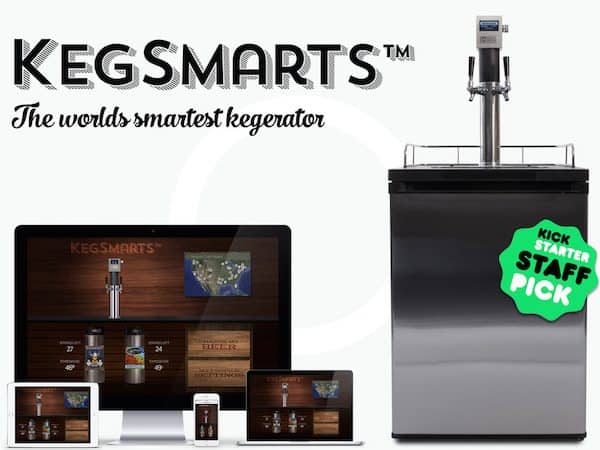 PicoBrew Inc., the company dedicated to technology for home craft beer creation and enjoyment, launched their second major product on Monday. KegSmarts,  the world's smartest craft beer kegerator, was listed on crowdfunding giant, Kickstarter, Monday morning and within 28 hours had exceeded 100% of the campaign's target 1-month funding level of $100,000.
Founder and president of Picobrew Inc., Dr. Bill Mitchell stated,"We knew the level of information, precision and control that KegSmarts™ brings to the home craft beer experience would appeal to any true craft beer lover. We just didn't know there were so many craft beer lovers out there!"
KegSmarts incorporates a unique collection of smart features that together address the shortcomings of today's craft beer experience.  Canned and bottled beer cannot match the freshness, choice, environmental-friendliness and cost of kegs of craft-brewed draft beer. Unfortunately, today's kegerators are not craft-beer friendly.  They cannot display information about the beer being dispensed, the amount of beer remaining or even control critical experiential elements like serving temperature.  KegSmarts addresses these gaps, bringing information, control, and internet-connectivity to the home craft beer experience.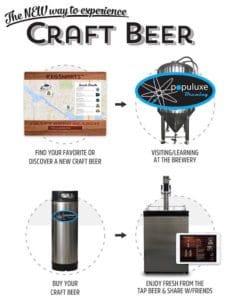 Based on an advanced RISC microcontroller, KegSmarts connects to the internet over WiFi.  A bright OLED display located atop a keg tower provides beer information including beer name, style, brewer, brew date, servings remaining, temperature, ratings, key ingredients and more. KegSmarts™ also helps customers locate craft breweries in their area to source fresh new craft beers.  A dynamic brew map with beer reviews and ratings is integrated with a personal "brewhouse" web-portal which allows customers to see and share their beer experience with friends.
KegSmarts was designed to work seamlessly with PicoBrew Inc's first product, the award-winning Zymatic.  The product is considered the world's first fully automatic all-grain beer brewing appliance allows even new brewers to create great craft beer at home simply and automatically.  KegSmarts is the perfect companion product allowing customers to both ferment and dispense their prized beers simply and precisely.
KegSmarts is available in single and double-tap kegerator models and also as an add-on product that upgrades existing kegerators.  Kickstarter prices start at $199 and $799 respectively.
The campaign is set to close on March 11th.
___________________________________________________________
Have a crowdfunding offering you'd like to share? Submit an offering for consideration using our Submit a Tip form and we may share it on our site!