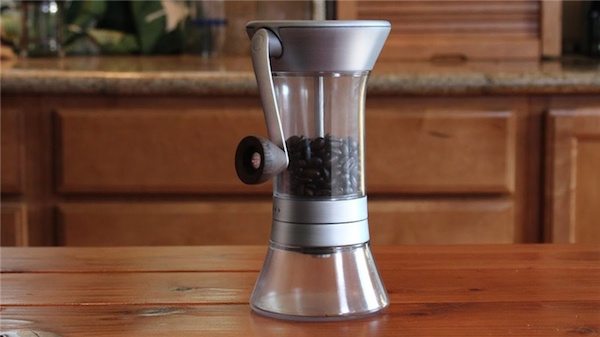 Earlier this month, Santa Barbara-based Handground launched a campaign on crowdfunding giant Kickstarter to raise funds for the new Precision Coffee Grinder. The product supposedly offers a "better grind" and more flavors than any of its competitors.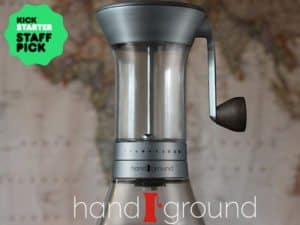 According to its description, the grinder is inspired by a performance camera lens. Handground stated, "It takes precision to brew a brilliant cup of coffee. We drew inspiration from the focus ring on a camera lens so choosing a coarseness level is simple.
"Handground represents the desire of thousands of coffee enthusiasts in one package and a new era of coffee grinders. From the size and shape of the wood knob, to the length of the handle down to the millimeter. Every element of Handground is designed with your coffee in mind."
Users of the grinder choose from 20 coarseness levels by twisting the dotted ring. Each level raises or lowers the conical ceramic burr mill by 125 microns.
Along with the coarseness, other features of the Handground grinder include:
Locking Top: Keeps bean particles from flying out of the grinder.
Side-mounted Handle: Creates better ergonomics.
Wide Base: Offers more stability while grinding.
100g Capacity: Its able to contain enough coffee beans for 5 cups of Joe.
Coarseness Adjustment Ring: Users will be able to select grind setting with just one twist.
35mm conical burrs: Made from densely sintered Alumina ceramic.
Triple Mounted Stainless Steel Axle: Eliminates burr wobble and produce a consistent.

Also revealing why they turned to Kickstarter for funding, the team added, "The idea to make a better coffee grinder started from something we called the 'Crowdsourced Coffee Experiment.' We were attempting to apply a Japanese principle called Kaizen to our coffee routine. It wasn't long before we learned how important a good grinder is to making better coffee so we purchased an entry level manual grinder.
"The new burr grinder was a noticeable improvement over the blade grinder, however we couldn't help but notice areas for improvement. Since Kaizen means continuous improvement we started to look for better options. Yet after searching the market and seeing the same ancient designs being repeated over and over we finally thought, we can do better."
Since its launch earlier this month, the grinder has raised over $150,000 from nearly 2,100 backers. It is set to close on March 7th.
________________________________________________________
Have a crowdfunding offering you'd like to share? Submit an offering for consideration using our Submit a Tip form and we may share it on our site!