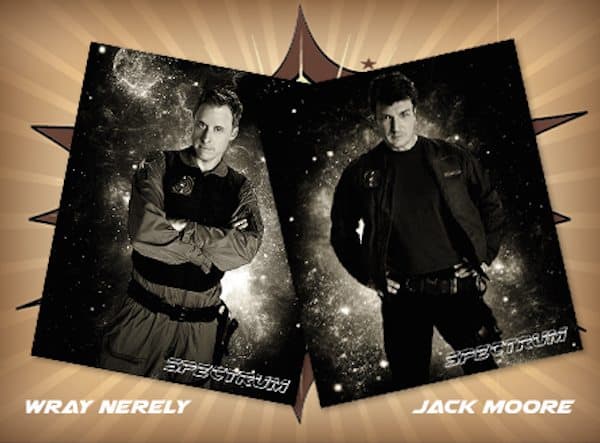 Seeking to bring their new project to life, Firefly duo, Nathan Fillion and Alan Tudyk has hit global crowdfunding platform, Indiegogo to raise $425,000 for Con Man.
Sharing details about the web series, show's creator, writer, and director Tudyk told Entertainment Weekly:
"It's about the convention world. My character, Wray Nerely, was on a science fiction show called Spectrum, that was canceled too son, and now he goes to conventions, to sign head shots, meet fans and do panels. Nathan's character, Jack Moore, who was the captain of the spaceship on Spectrum, has gone on to incredible action-hero stardom, like Matt Damon. My character is frustrated with his situation and frustrated by Jack's stardom.

"We follow Wray's story as he goes to the conventions and does video game voiceovers and we are going to popular it with sci-fi actors and people that you will find at conventions. Zany hi-jinks ensue!"
Reportedly, guest stars of Com Man will include fellow FireFly castmates, Sean Maher and Gina Torres. Others that the duo are hoping to attract to the show are Seth Green, Felicia Day, and Guardians of the Galaxy filmmaker, James Gunn.
Sharing his thoughts about the show and Tudyk's work, Fillion stated:
"Alan is a very clever idea. He comes up with ideas constantly. A lot of his ideas are kind of flash-in-the-pan type ideas. Alan, do you remember Doctor Cop Lawyer? [It was about] a guy who was a doctor, and a cop, and a lawyer. So he chases down the criminal, arrests the criminal, saves the criminal because he just shot the criminal, and then represents the criminal in a court of law. That was something Alan didn't really pursue. But this one, he has been a bit of a dog with a bone with this.

"He's been pursuing it, and making all the right moves, and he's been very energetic and tireless in his pursuit. And then he wrote the script and he let me read it—and it is brilliant on a lot of levels. It pleases me in a lot of ways. As an audience member, this is exactly the kind of thing I want to see. I want to see a guy who gets kicked in the nuts all the time. I want to see a guy whose life just keeps handing him lemons. I love watching him suffer and Alan, this is one of his niches. He can do a lot of things but he can suffer very well.

"I think what Alan's doing is very clever. He's not coming at everybody saying, 'Fund this entirely huge, massive concept.' He's saying, 'Let's do three. If you love it, let's do more.' This project is about honoring the sci-fi projects of years gone by that have been forgotten, and the people that are fanatical about those projects. And it's the kooky people you meet along the way."
Tudyk then added:
"[But] the kooky people in Con Man are not the fans. [The fans] are the heroes of this. The kooky people are the people who work in the conventions. It's the other side of conventions that fans don't get to see. It's the people that we've met along the way that are pulling the strings behind the curtain, in addition to kooky celebrities.

I've always wanted to involve the fans. The convention world is huge and getting bigger all the time. You mentioned Firefly. We've seen the fans do incredible things and this is something that the fans can get involved with at an early level and, having done conventions now for twelve years, some of the incentives are things that they want. This is going to be somewhat of an online convention in that, at conventions you get headshots signed, and there's going to be that type of thing —because there is a show within-a-show: Spectrum."
Since its debut on Tuesday (March 11th), Con Man's campaign has captured over $80,000 from nearly 550 backers. It is set to close on April 9th.

______________________________________________________

Have a crowdfunding offering you'd like to share? Submit an offering for consideration using our Submit a Tip form and we may share it on our site!

Sponsored Links by DQ Promote