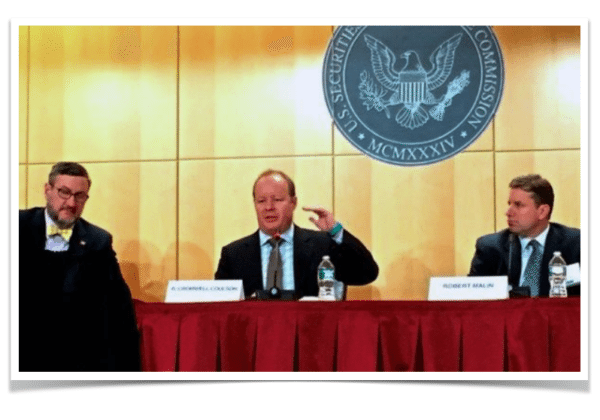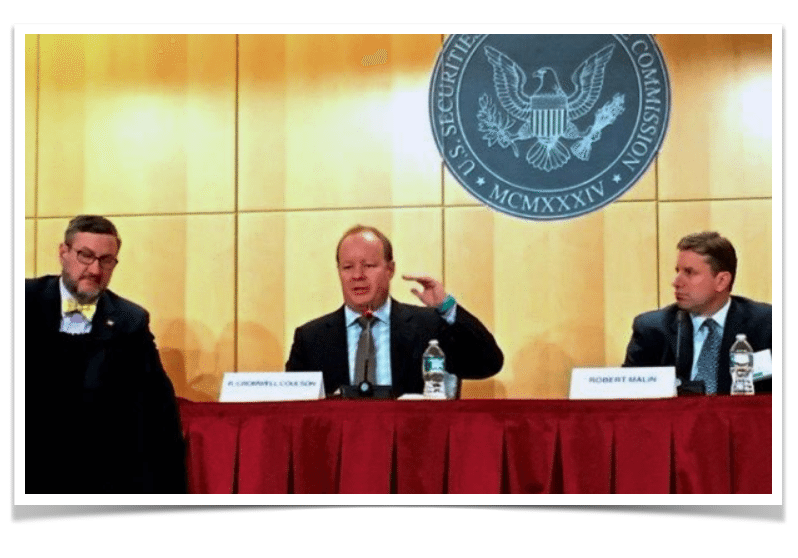 In 2014 OTC Markets claimed a record "exchange graduation year" with 83 companies "up-listing" from the OTC marketplaces to a NYSE or NASDAQ listing. OTC Markets also experienced a 92% increase in the number of US companies that qualified for their OTCQX Marketplace and now has over 660 small companies verified for trading on the OTCQB Venture Marketplace, which is designed to bring visibility and liquidity to smaller companies.  OTCQB wants to become the Venture Market in the US providing a transactional platform for small companies including ones that are issuing securities using JOBS Act exemptions.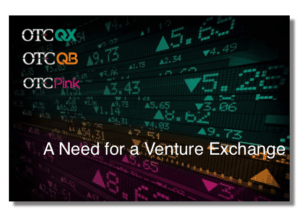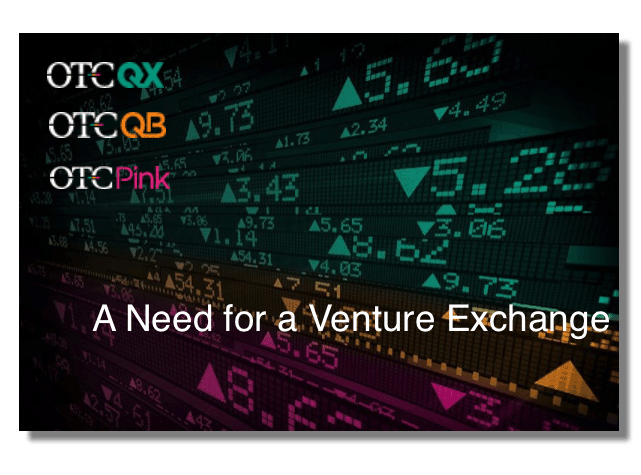 Cromwell Coulson, CEO of OTC Markets, has been a tenacious proponent of removing cumbersome capital raising restrictions on SMEs and engendering a light touch regulatory approach to allow new types of securities to freely trade on venture marketplaces. The issue of venture exchanges is currently a hot topic in Washington, DC, capturing the interest of SEC Commissioners and elected representatives in both the House and the Senate. Optimizing public markets and creating liquidity for growing SMEs is necessary to facilitate access to capital and opportunity for investors.  Creating a more efficient environment for SMEs to raise capital is vital for economic growth, but requires a balance of consumer protection with effective processes. OTC Markets has positioned its platform to provide the marketplaces to be this exchange but they do not believe there should be an "exchange monopoly";
"Some industry insiders are floating the misguided idea that small company trading should be consolidated on "venture exchanges." This is an old idea that's been around since the days of former New York Stock Exchange Chairman Dick Grasso: that markets are somehow better served if brokers can only trade on one exchange. We see it as asking regulators to grant a monopoly on secondary share trading to restrict competition."

"Rules that require trades take place on an exchange are not good for investors or companies. Limiting choice and competition may look more orderly, but it is not what makes America's financial markets great. We need to better focus our efforts on what is restricting small companies from raising capital and a diverse community of brokers from trading their securities."
Cromwell has consistently attacked the "complex and costly assortment of state Blue Sky requirements" that has hindered small companies.  The recently released final rules under Title IV of the JOBS Act, or Reg A+, is a step in the direction to address these shortcomings as Tier 2 pre-empted state Blue Sky Review. Crowdfund Insider recently contacted Cromwell to hear his initial impressions of the rules and how he views OTC Markets taking advantage of the changing regulatory environment.
---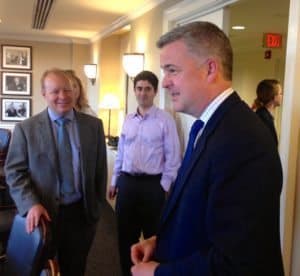 Crowdfund Insider: What are your initial impressions on final rules regarding Title IV of the JOBS Act?
Cromwell: My initial impressions are positive. I think this is a pragmatic step forward to make federally registered offerings of securities more efficient for smaller companies. Next the SEC should look at preemption for all fully SEC registered offerings, including offerings of securities exempt under Securities Act Sections 3(a), 3(b) and 5.
The states also showed with their coordinated review that they can get together. I hope they can apply state coordination to all capital raises and secondary trading that require Blue Sky compliance. Otherwise the SEC and Congress will need to step in and preempt more offerings and broker secondary trading so interstate commerce can efficiently take place across our nation's financial markets.
Crowdfund Insider: How do you see Tier 1 evolving?  Tier 2? [of Regulation A+]
Cromwell: The SEC has created a horse race between Federal and state regulations. I expect Tier 2 offerings to be more popular for companies looking to go public on a national basis, but Tier 1 has a strong opportunity to work in states that are friendly to small business capital formation in their communities.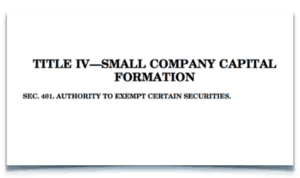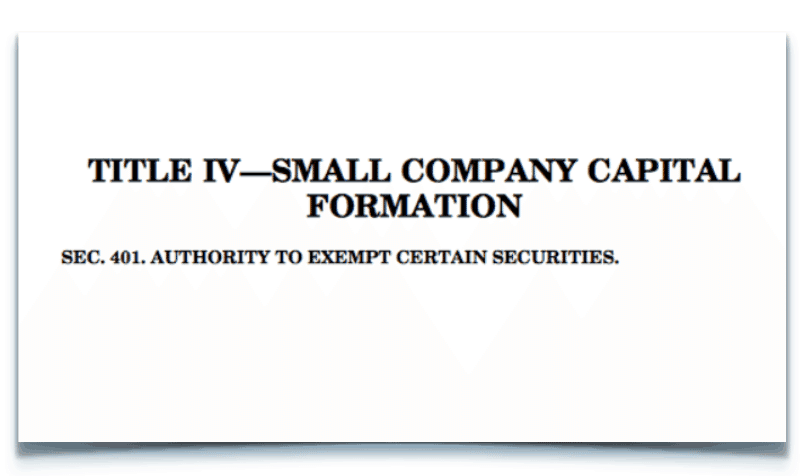 Crowdfund Insider: Were you surprised about the increase to Tier 1 funding limits to $20 million?
Cromwell: I was impressed that the SEC created the opportunity for states to show what they can do. I was more surprised they did not raise Tier 2 to $75 million and allow fully SEC reporting smaller companies to make Tier 2 offerings.
Crowdfund Insider: Were there any other surprises in the final rules?
Cromwell: I think the SEC just wanted to get the rules out, so it was pretty close to the proposal.  Significant changes would have slowed the proposal down even more.
 Crowdfund Insider: Do you see any significant hurdles for issuers interested in Reg A+?
Cromwell: Getting a critical mass of bankers and lawyers who have experience advising and efficiently executing Reg A+ offerings is the next hurdle. It is exciting that many of the crowdfunding platforms are looking at using Reg A+.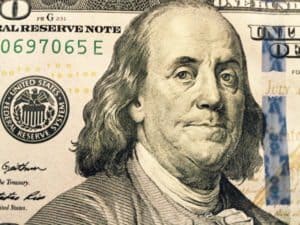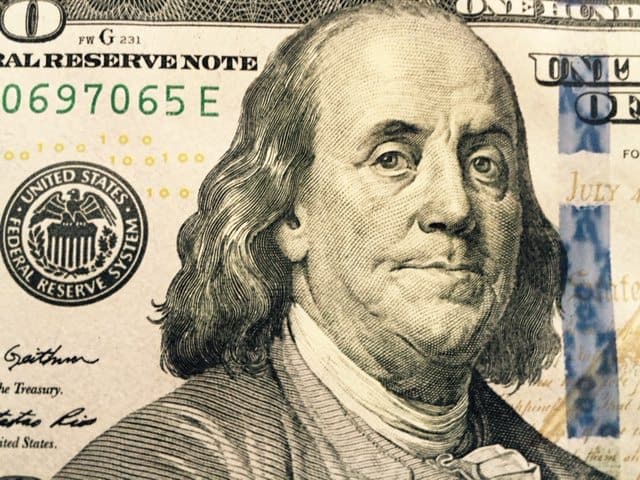 Crowdfund Insider: How do you view the inclusion of non-accredited investors?

Cromwell: Allowing non-accredited investors but limiting their total risk is a pragmatic way to approach capital raising for smaller companies.

Crowdfund Insider: You have been a vocal advocate of providing liquidity to new types of securities such as crowdfunded equity.  Will OTC be an option for companies issuing shares using Reg A+?

Cromwell: Yes. We anticipate our OTCQX and OTCQB marketplaces will become preferred secondary trading markets for companies that raise capital under the JOBS Act, including using Reg A+. Our marketplaces offer real-time price transparency and connectivity for broker-dealers to efficiently trade and enable companies to enhance the current disclosure requirements under Tier 2 offerings so they can build trust and safety for investors.

Sponsored Links by DQ Promote