The WEZR team, a French innovative weather tracking technology company, today announced it has launched a crowdfunding campaign on Kickstarter for its self-titled all weather wearable tracker.
Co-founder at WEZR, Stephane Diner, stated:
"Today, new technology tools, consumer performance expectations, the immediacy of the connected world we are moving towards a demand forecasting much more accurate weather in time and place, tailored to the activities and individual. These types of forecasts can't be based only on weather models and even less in the long term but instead on now casting, more accurate, safer, and collaborative ultra local. WEZR uses both models but also all available observations, including those of its sensors to correct and constantly refine the forecast in the short term."
The increasingly vital need for immediacy and performance boosted by Ntic pushes us towards a new way to use these forecasts. The current trend in applications is to offer a weather application with forecasts increasingly early in time: 2, 3, 4, 5 and some days up to 12 days. Even as weather models have evolved, they are mathematical models with their limitations, derivatives, and imperfections. This new product represents a paradigm shift, allowing consumers to have answers to the constant change in weather, atmosphere and climate conditions.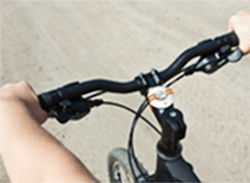 WEZR tackles weather forecast reliability and accuracy through a combination of sensors, engineering, distributed network and cloud computing. WEZR reads the behaviors of the weather in your area by way of a small, innovative sensor. Observation data from your sensor is transferred to our data server when you are Bluetooth connected. Advanced algorithms analyze live data and combine it with current weather predictions to deliver updated forecasts that are displayed directly on your smartphone through a free WEZR application. The result, consumers are able to receive geolocated weather forecasts, continuously updated, to precise mile by mile, every 5 minutes.
two-time World Kite Boarding Freestyle Champion, Youri Zoon explained:
"I've been sailing, windsurfing and kite surfing since I was 9 years old. So weather, wind and waves are a big part of my life. For 8 years, as professional kite boarder, I have been traveling the world and coming to new places every time. So for me it's extremely important to take the right decision on those new places, to know when and where I can train. That's why I trust in WEZR and think that together we can grow bigger and better."
WEZR has been in development for over two years. The project launched today on Kickstarter and will run for the next 40 days. With the help of many passionate individuals, this personal web device will be available in December 2015. On Kickstarter, WEZR will be available for as low as $79 for early bird pricing, MSRP for $99.
WEZR's campaign is set to close on May 21st.
______________________________________________________
Have a crowdfunding offering you'd like to share? Submit an offering for consideration using our Submit a Tip form and we may share it on our site!