Last week, Indiana's Memories Pizza began to receive major backlash when its owners, Kevin and Crystal O'Connor, announced their support for the state's newly passed Religious Freedom Restoration Act, which allows businesses to decline any services to those who do not agree with their beliefs.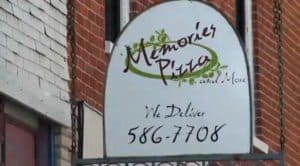 Immediately after threats and the hateful comments began to flood the pizzeria's Facebook and Yelp pages , the owners of Memories Pizza decided to close the shop to avoid any dangerous situation that could be caused by the criticism. This caused a production member of The Dana Show, Lawrence B. Jones, to step up and launch a crowdfunding campaign on GoFundMe for those who wish to donate funds.
Now, a San Francisco woman named Courtney Hoffman took to Memories Pizza's campaign and pitched in $20, even though she's a lesbian and doesn't agree with Indiana's Religious Freedom Restoration Act. The small business owner has decided to give to the shop as a way to show her support for tolerance rather than bigotry.
Explaining why she decided to support the shop, Hoffman stated on the campaign's website:
"As a member of the gay community, I would like to apologize for the mean spirited attacks on you and your business. I know many gay individuals who fully support your right to stand up for your beliefs and run your business according to those beliefs. We are outraged at the level of hate and intolerance that has been directed at you and I sincerely hope that you are able to rebuild."
During a recent radio interview, Hoffman shared:
"My girlfriend and I are small business owners, and we think there is a difference between operating in a public market space and then attaching the name of your business to a private event. Like, if we were asked to set up at an anti-gay marriage rally, I mean, we would have to decline.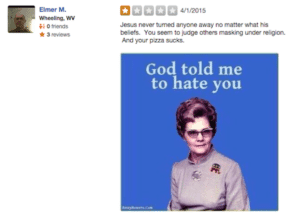 Hoffman also noted that the "horrible, hate-fill attacks" against Memories Pizza does not reflect the gay community that she knows and loves:
"The gay community that we know knows full well that it's like to be condemned for doing nothing but living your life according to your beliefs. We know so many gay individuals that fully support the freedom of living your life according to your beliefs and feel that freedom extends to everyone, even the people that we don't agree with."
In regards to those who support her donation, Hoffman added:
"There's this tendency to group people together – they are either one thing or they are another. I just think there's a lot of room for differences and similarities between all of these businesses, all of these communities, and if we can remember that differences don't equal maliciousness.

"Maybe we can move beyond threats of violence and have open discussions of the things that we don't agree on."
Have a crowdfunding offering you'd like to share? Submit an offering for consideration using our Submit a Tip form and we may share it on our site!