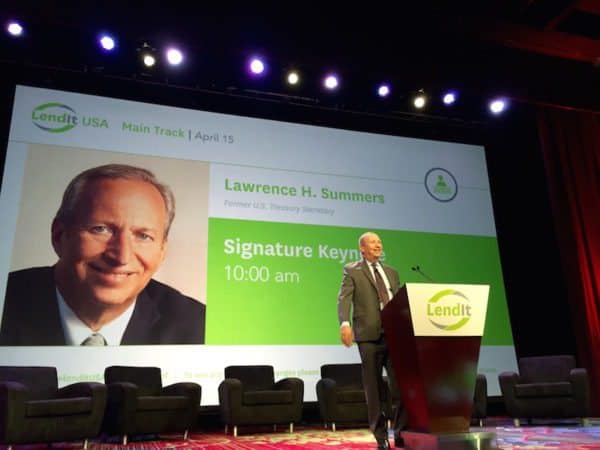 "Regulators should allow new firms to operate, generate data on the outcomes created by novel business models before writing new rules."
Larry Summers, former Secretary of the Treasury under President Clinton and Director of the National Economic Council under President Obama, delivered a rousing speech at the LendIt conference held in Manhattan this past week. Summers, an economist, said this is a challenging time for the economy and took traditional finance to task stating, "I think the conventional financial sector has, in important respects, let all its main constituents down over the last generation".
While criticizing the past, Summers remains hopeful for the future.  More specifically he is hopeful about new forms of finance that engenders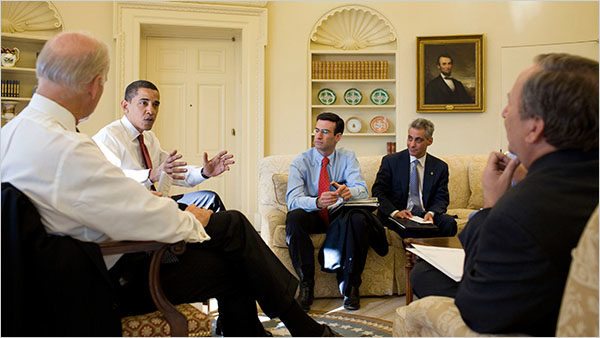 transparency and efficiency to the forefront and moves away from the shadow world of traditional banks.
His speech, entitled Lending for a New Economy, dissected the "chronic excess of saving that is not being effectively channeled into investment". He described this as a being a failure of both policy and processes where there is less investment, and less growth, demanding the question to be asked;  "how well the mainstream financial system is functioning?"
Is the traditional financial system meeting the needs of borrowers? If you ask Summers it is a definitive no:
Small business lending is a much smaller fraction of total bank lending than it was 15 years ago
Home ownership rates in the United States have fallen behind by a generation
Credit is increasingly unavailable for those wishing to pursue higher education because of the great difficulties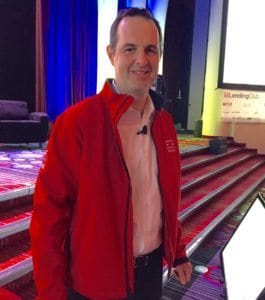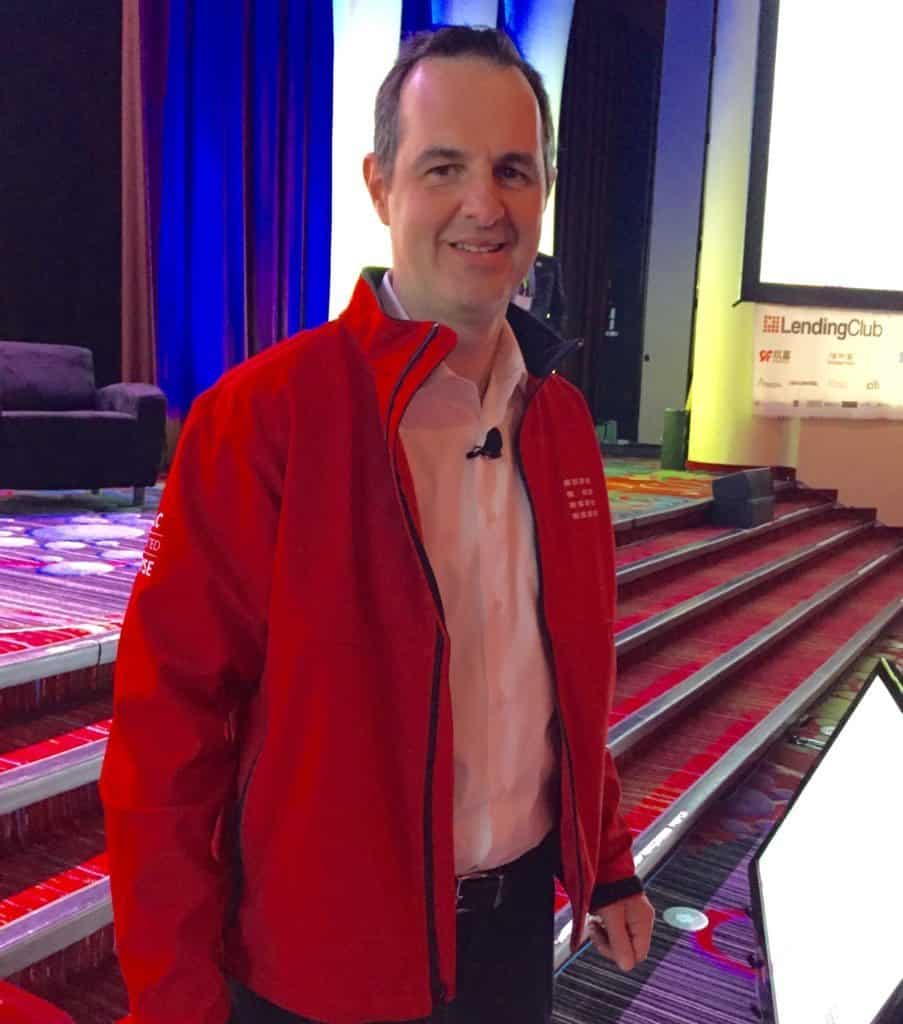 Summers not only has the inside perspective from lofty policy perspectives: he is also a member of the Board of Directors for the largest peer to peer lending company in the United States – Lending Club.  Reflecting on the day that CEO and founder Renaud Laplanched pondered the extreme disparity between what he paid in credit card interest – against what he was earning in savings deposits – Summers highlights the inefficiencies incumbent upon our banking system today.
"the first disappointing aspect of the mainstream financial system is that it has not succeeded and is succeeding less well than it once did in its basic function of providing credit to people.."
Summers is a believer that technology can transform finance – and this is not just some sales pitch about Lending Club's future.
The Secretary is of the opinion that technology will remove the "friction" and make finance better; epitomized in peer to peer lending occurring today.  This profound change will be transformative to the incumbent financial system – and not just for consumer loans.
"Innovation in lending, payments, funding, and allocation of risk, I believe, offers tremendous potential for making the American economy and the global economy not just more efficient, but more secure and more stable."
Summers rhetorically asks, "how should public policy view all of this?"  The answers are quite clear: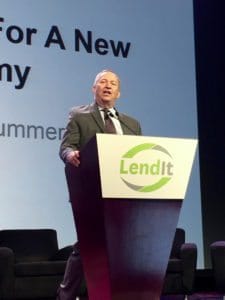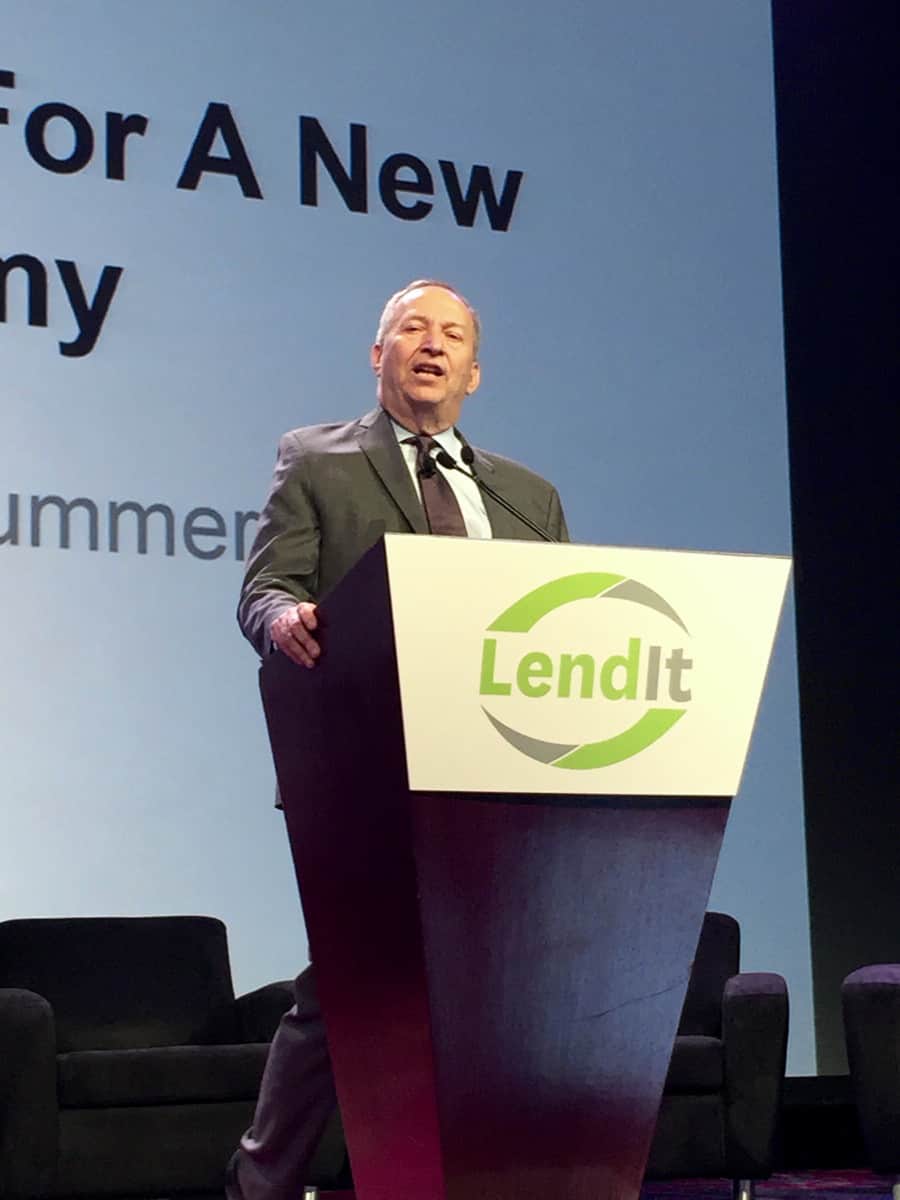 Permission not prohibition.  Let new business models emerge.  Regulators should allow new firms to operate, generate data on the outcomes created by novel business models before writing new rules.  Yes, regulation is necessary, but only when it is necessary.
Insist on transparency and disclosure, then let consumers decide.  As new lenders serve parts of the market that have historically not had access to credit, high rates may draw regulatory scrutiny.  Regulators should require full transparency and disclosure, and see how consumers react to new products and prices before writing rules.
Maintain a level playing field.  Don't give incumbents an unfair advantage, but discourage business models based on unfair regulatory arbitrage.  Regulators should strive to put entrants on equal footing with incumbents, but to do so without sacrificing consumer protection.
Provide workable regulatory frameworks.  To date, regulatory authorities have generally maintained appropriate attitudes towards innovative lenders.  It will be important as the industry evolves and grows that regulators not create overhangs of uncertainty or burden excessively those attempting to innovate.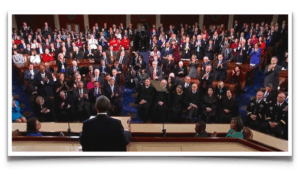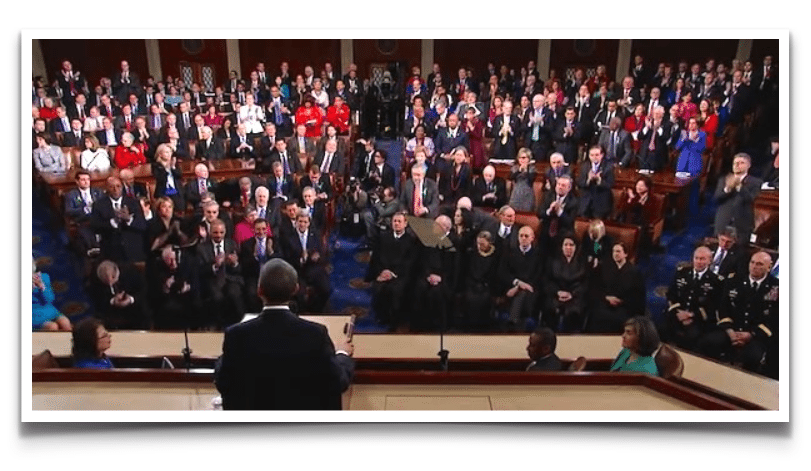 Summers aptly understands it is very difficult to predict how technology can, and will, improve the future. Marketplace lending, and other new forms of capital formation, are only now starting to percolate to consumer awareness and popular acceptance. There is no doubt that regulatory challenges, and misguided legislation, will surface at some point in the future to challenge financial innovation. Summers understands all too well Washington's "tendency towards dysfunction [and] the occasional ossification of tradition".  He is of the firm belief that;
"the task of renewal of our financial system is not primarily one for public policy.  It is primarily one for entrepreneurial innovation.."
You may read the Summers speech in its entirety here.