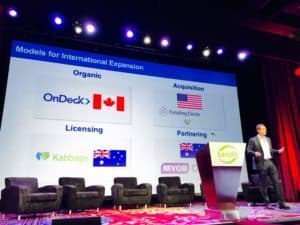 OnDeck Capital, a U.S.-based online marketplace which offers short-term loans to businesses of between $5,000 and $250,000, is expanding its offerings in Canada, joining a growing number of tech-oriented lenders that promise to transform the financial services landscape, according to 680 news.  Experts say Canada has been slow to embrace peer-to-peer lending, a burgeoning industry that provides consumers and small business owners an alternative to the banks by pairing them with institutional investors and wealthy individuals willing to lend them funding.
"We're really excited about the Canadian marketplace; it's our first international foray," commented Rob Young, OnDeck's senior vice-president of international operations. "We are only focused on small business lending.  From very early on we have seen an enormous opportunity to help Canadian small businesses meet their growth and seasonal financing needs.  OnDeck launched here to make access to capital better and easier for Canadian small businesses and we are excited to expand our offering to further meet their needs."
Since 2007, OnDeck has delivered over $2 billion to American small businesses in more than 700 industries and has been lending in Canada since 2014. As part of the expansion, OnDeck will now offer loans up to $150,000 (CAD) to Canada's approximately 1.1 million small businesses. OnDeck chose Canada as the first country to lend to outside the United States, launching the company's strategic initiative to meet the financing needs of small businesses in select international markets.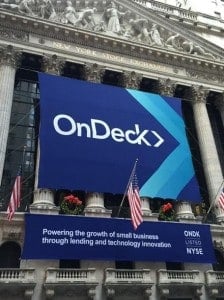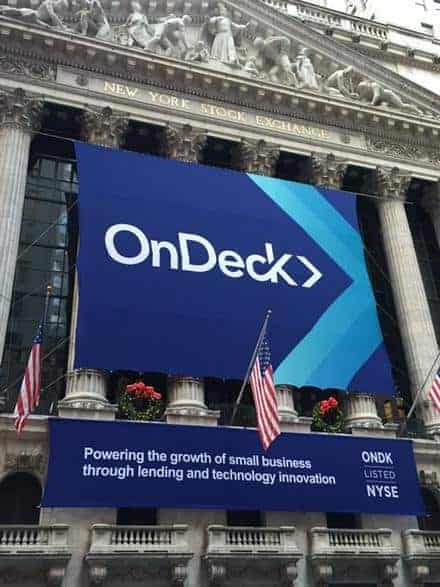 In the U.S., two large peer-to-peer lenders made initial public offerings last December: LendingClub, which loans money to consumers, and OnDeck, which serves small businesses.  OnDeck, venture-backed by investors including Google Ventures and PayPal co-founder Peter Thiel, has also achieved recognition among Forbes Most Promising Companies in America and the Inc. 500|5000.
The company's success and achievements stem from its proprietary technology and small business credit scoring system, the OnDeck Score, which evaluates small businesses based on actual operating performance, not just personal credit. The OnDeck Score evaluates more than 2,000 data points per loan application and leverages a database of more than 10 million small businesses to assess creditworthiness of businesses in the United States and Canada, according to the platform.
Since its initial launch in Canada in 2014, OnDeck has already funded more than 150 industries – including restaurants, retailers, auto repair shops and personal care services – and has seen a very positive response from the local small business market.  Now, after an initial trial period where it offered small loans — $50,000 or less — to Canadian firms, OnDeck expects to expand north of the border, joining a handful of homegrown startups including Fundthrough, which lends to small businesses, and Grouplend and Borrowell, serving consumers. OnDeck, which has delivered over $2 billion in loans since 2007, will now offer loans of up to $150,000 to Canadian companies.
In Canada, small businesses are the lifeblood of the economy, according to OnDeck. Each year 41 percent of Canadian small businesses seek capital to grow their businesses, purchase equipment and manage cash flow, yet less than half get the financing they need, according to Statistics Canada. OnDeck's technology-enabled financing solution aims to deliver decisions and funding to Canadian small businesses in a matter of days, allowing access critical growth capital.

Sponsored Links by DQ Promote