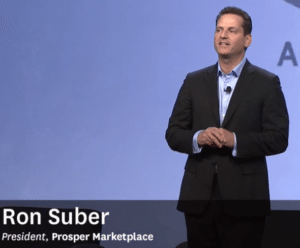 Ron Suber, President of Prosper – one of the leading peer to peer lenders in the US, delivered one of the keynote presentations at the LendIt conference held in Manhattan last month.  Suber really did not focus on his company but instead gave a high level perspective on the entire industry; how it is evolving and where it is heading.
You can view the Prezi here, but the video of Ron's keynote was recently posted and is recommended viewing for any industry participant, anywhere in the world, if you were unable to attend.
The theme is really about the sector cycle. From interesting novelty, embraced by early adopters, to eventually becoming indispensable for your existence.  Can you imagine existence without your smartphone? I cannot.  Yet a bit over a decade ago, a mobile phone was a tool for the few – not for the many. Suber is on point.  The financial industry is changing and as Jamie Dimon sagely pointed out, Silicon Valley is coming.
Suber is a passionate advocate for the marketplace lending industry.  He has seen the future and it is just around the corner.  If you are in the banking industry and curious about P2P – watch. It will be worth your time.