Giving fans an insight in his latest project, Mae, comic book writer and artist Gene Ha sat down with Comic Alliance to share details about the new comic book and its Kickstarter success.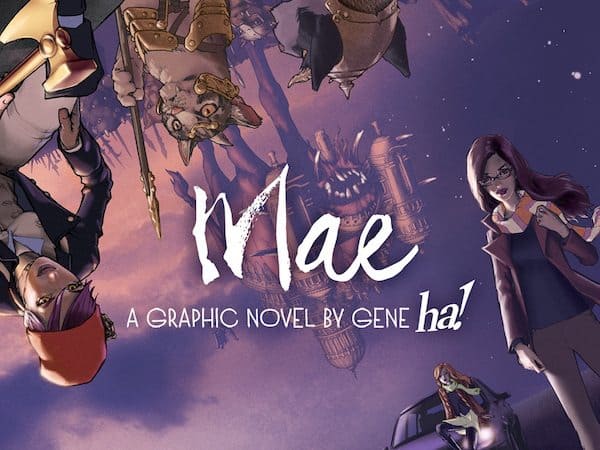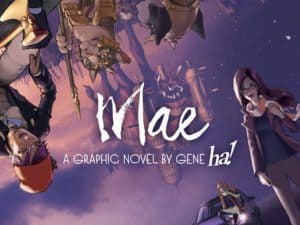 As previously reported, Ha announced the project last month at C2E2 and noted that he has been working on Mae for the past two years. The new comic is a story about a girl name Mae who is reunited with her sister Abbie, who ran away years ago and finds that the place she ended up at was a fantastical other world called Cimrterén.
While describing the comic, Ha stated that there are "mad science and monsters" everywhere in Cimrterén and they are coming to get Abbie – and those who stand in their way such as Mae. Ha also revealed that Mae is a project decades in the making and was inspired by his early love of Matt Wagner's Mage.
"Mae is the story of two sisters from small town Indiana. Eight years ago, the older sister Abbie Fortell disappeared. Mae, the younger sister, finished school, cared for their aging father, and took over the family business. She has no idea what happened to her sister until she gets a last night call from the Sheriff's office. Abbie is back, with tales of adventures and mad scientists and monsters. Those stories are hard to believe until the monsters start appearing in Indiana."
During his chat with Comic Alliance, Ha revealed what really made him turn to Kickstarter for help:
"Rocket Girl! Amy Reeder and Brandon Montclare's Kickstarter in the spring of 2013 was the game changer. I love everything about the project, from how they ran their campaign to the art and the story. I especially love how they built a community around Rocket Girl. People tend to think of Kickstarter as mainly a financial website, but it's really a community. If creators can prove they're serious and prepared, people give both their money and their friendship.

"I didn't know if I could do it, but I began talking to experienced KS vets like Jimmy Palmiotti and Ryan Browne. They're great at Kickstarter because they're both so sharing and big hearted, and that came through in their mentoring of me. They both thought Mae and I were a perfect fit for Kickstarter. It's been a lot of work and learning, but they were right. I love the Kickstarter comics community!
"One of the biggest issues with Kickstarter is proving that you'll actually deliver. Backers have been burned before, repeatedly. Ryan Browne really drilled this into my head. He only launched his Kickstarter after his book was a finished printer ready file. He became my main Kickstarter role model, and I lived off of my savings while I finished the book."
Also explaining what inspired Mae, Ha noted:
"There's so many inspirations! Beyond Why I Hate Saturn, there are also tales like the Oz books, John Carter, the Avatar cartoon series, and especially Pixar movies. There are also non-fiction inspirations. When I first heard of the Bechdel Test, I realized that Mae would pass that test. It's not that every movie or comic book needs to be Bechdel Test approved, but there are far too few. I could be part of making the comics industry a little bit better, a little more welcoming.

"By doing things like making free sketches for kids, I've always tried to invite in new readers. But my books have been mainly aimed at guys about my age. Mae is my chance to make a book that openly invites in new readers to read comics. Along with old male comics nerds like me, of course."
In regards to continuing to fight for the comic book industry, Ha added:
"I'm doing this because our industry will die without them. There are still people out there trading baseball cards, but it's a dying hobby. Until recently I was afraid that US comic books would go the same way. I came in during the end of the Image boom, and I watched the industry shrink year after year. Marvel went bankrupt, thousands of local comics shops closed, and sales sank as we used ever more desperate crossover events and cover gimmicks to juice the numbers. I don't want to sell 25 books that get dumped straight to the quarter bin just to get one variant cover copy.

"This has turned around in the last few years, in a way that's hidden from the Diamond monthly reports. On Comixology Ms Marvel is one of Marvel's top sellers. It's not only beating Captain Marvel, it's beating Iron Man. Books like Bone and Smile have generated gigantic sales outside direct sales comics channels. You wouldn't know this from online comic geek discussions, but Raina Telgemeier has become more important to comics than Jim Lee. The readers are out there if we're willing to make books for them. I feel blessed to live in this age of comics."
Mae's Kickstarter has so far raised over $50,000 (initially only seeking $22,000) from nearly 950 backers. It is set to close on May 27th.

Have a crowdfunding offering you'd like to share? Submit an offering for consideration using our Submit a Tip form and we may share it on our site!

Sponsored Links by DQ Promote