The German Crowdfunding Network has just published first quarter 2015 numbers for the crowdfunding market.  It is interesting to note that both debt based and equity based crowdfunding jumped significantly versus Q4 of 2014.  The association also tracks rewards based as well – this sector was flat and may be indicative of a shift occurring as investing surpasses platforms that only focus on rewards. The GCN noted that neither Indiegogo nor Kickstarter data was incorporated because the data was late. Still even at € 4 to € 5 million (estimated) this number is small in comparison to the investment sector.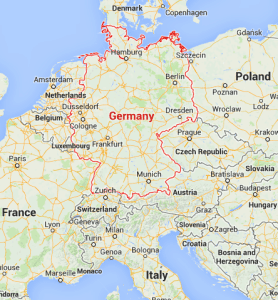 For Germany equity crowdfunding jumped from € 7.9 million to over € 12.4 million in Q1 – an over 50% increase.  Now this may be due to one or two large deals (perhaps Weissenhaus) so it will be interesting to see how Q2 does in the next couple of months.
Debt or lending based is the real star – similar to what is occurring in much of the rest of the world. The fourth quarter of 2014 saw total originations top € 37.4 million.  In the first quarter of 2015 this number jumped an impressive amount topping € 65.35 million – an increase of over 70%.  If you check out the graph there was a solid increase from Q3 to Q4 of 2014 so this may be a better indicator.  The GCN clarified that this amount would be even larger but one of the platforms decided not share their info.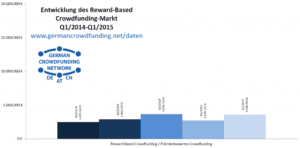 Rewards based came in at € 3.586 million.  A nice increase from Q4 but less than Q3 of 2014.  Perhaps the entry of Kickstarter targeting German campaigns may boost this number but we will wait and see.
The German crowdfunding market was nearly killed in its entirety by a misdirected regulatory approach.  At the last minute lobbying by advocates and more level heads resulted in regulations that at least some believe are workable.
In total over € 80 million was accounted for in the entire crowdfunding market for Q1. Compare this number to the € 140 million for all of 2014 and it appears 2015 is off to a good start.  Many of the German platforms are also operating in Switzerland and Austria so there is probably some overlap there.