Get excited, Pebble Time backers: Your high tech smartwatch is on the way! California startup Pebble announced on this week that the Kickstarter-success watches are now ready to be shipped.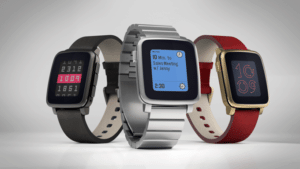 As previously reported, Pebble Time hit the crowdfunding giant's platform earlier this year and surpassed its initial within just mere hours. By the end of its funding round, the smart watch gained $20,338,986 from 78,471 backers, which made its initiative the most funded project on Kickstarter.
The breakdown of what has happened so far revealed:
With Pebble Time now at distribution centers, shipping labels and tracking numbers will start going out and ramp up quickly.
The first 10,000 Pebble Time rewards will ship from five distribution centers around the world this week.
From there, the company will keep on shipping! All Pebble Time backers should receive tracking numbers by mid-June.
Sharing gratitude for backers, Pebble stated:
"The support and feedback from our first million Pebblers since starting this journey has carried us further and faster than we imagined. Thanks to them, we're delivering the most focused, purpose-built smartwatch for busy people to Get. Things. Done. Pebble Time builds on the past, focuses on the present, and welcomes the future."
Also showing some love towards its key competitor, Apple, Pebble noted:
"If the number of Macs, iPhones, and iPads around Pebble HQ is any indication, we love Apple as much as everyone else. We're excited to confirm that voice replies to Gmail notifications for iPhone users are coming in a future update. Bringing more iPhone voice features to life—like letting Pebble apps use Time's built-in voice recognition software—is one of our next big priorities now that Pebble Time's core software is complete."
In regards to what they expect from the Pebble Time launch, the Pebble team added:
"We can't wait for backers to have first dibs on the most anticipated member of our Pebble family. Pebble Time distills everything our community loves most about a smartwatch worth wearing for years to come. Rally behind our vision of technology that gets better with time, appreciates focus over kitchen sinks, and makes doing what we love better. It's a rock-solid foundation to build the future upon.

"Kickstarter backers may be the first to experience the tiny moments of awesome Pebble Time brings to life, but they won't be the last."
Have a crowdfunding offering you'd like to share? Submit an offering for consideration using our Submit a Tip form and we may share it on our site!