Earlier this week, New York City couple Alex Daly and Hamish Smyth hit crowdfunding giant Kickstarter with a mission to raise $29,800 for their "Big Apple" subway station posters.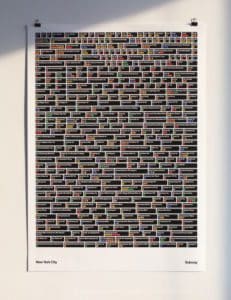 As a Kickstarter exclusive, the posters are 11 Pantone sport color limited and are licensed by the Metropolitan Transportation Authority (MTA). It was noted 5.6 million daily riders, 7,887 weekday trips, 6,383 subway cars, a lot of rates, 840 miles of track, 468 stations, 21 routes, 1 poster. Each poster is printed in Italy.
Sharing details about the project, the creative duo wrote:
"Last year, Hamish drew all 468 subway stations signs and arranged them in alphabetical order. We printed them on a poster to hang in our apartment. Why? Because… Subway!

Everyone who visits our apartment loves the poster and asks where they can get one. That's why we have decided to share it exclusively on Kickstarter. But the poster we are offering here is much cooler. We have enlisted the same Italian printers we worked with for The Standards Manual, who will print the poster in 11 Pantone spot colors."
Revealing why did they make the poster, Hamish and Alex explained what really inspired the design:
"We didn't only decide to produce this poster because our friends wanted it. During the Standards Manual campaign our fascination with the subway signage only deepened. Even though the signs have changed from the original 1970 Unimark designs, they remained close to the original intent of Bob Noorda and Massimo Vignelli.

"Their staying power is a testament to the simplicity and elegance of the design. This is an iconic design that should be remembered and celebrated, and we think a beautifully printed poster is a great way to get it into many people's hands."
Each poster will be 24" x 33 1/4 (610mm x 845mm). The edition poster will be 28" x 38 3/4 (711mm x 984mm). Noting the printing specifications, the couple added:
"We plan to print the posters with one of Italy's finest printers. We worked with these printers to produce The Standard Manual book, so we are fully confident they will nail this too. Each poster will make 2 passes through a 6 color press, receiving 6 colors in the first pass and 5 in the second. Black will be applied last, to avoid smudging as it passes through the press.

"A stochastic screen will be used on the plates, to ensue we have perfect registration. We are still deciding on the poster, but will be using only the highest quality matt or silk coated paper we can source from Europe."
Each poster will be shipped in a 4″ (102mm) diameter cardboard tube, and will be individually rolled in a glassine interleaving sheet. The cost for the designs range from $35 (for regular poster) to $65 (edition poster).
Since its launch the campaign has secured over $70,000 from nearly 1,400 backers. It is set to close on July 21st.
_____________________________________________
Have a crowdfunding offering you'd like to share? Submit an offering for consideration using our Submit a Tip form and we may share it on our site!