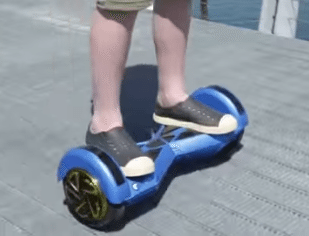 Crowdfund Insider recently published an article about a worrying issue in the crowdfunding space: Crowdfunding campaigns that are not really innovative and new but simply re-packaged products already for sale elsewhere – typically on Alibaba.  Since all things tech are mostly manufactured in Asia – many products are available there first.  While this is not illegal in any way, in our opinion it pushes the line of what rewards based crowdfunding should be about.  Plus project creators should strive for transparency and honesty.  If your product is already for sale elsewhere, why not share that fact? Hmmm…
Yesterday a concerned reader tipped us off to a product that is not really that new but is being marketed on Indiegogo now. RevoBot, "the most advanced body gravity board" , has already raised over $20,000 from 70 backers on Indiegogo.  What most backers may not know is that  a very similar product is available today on Alibaba.  Check it out and decide for yourself.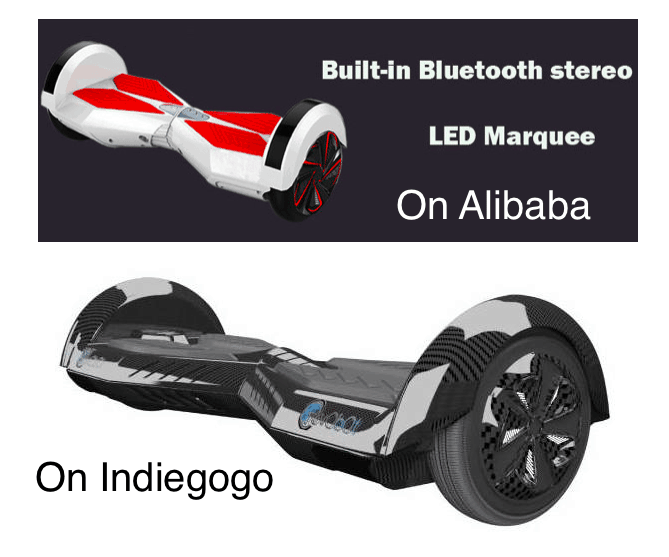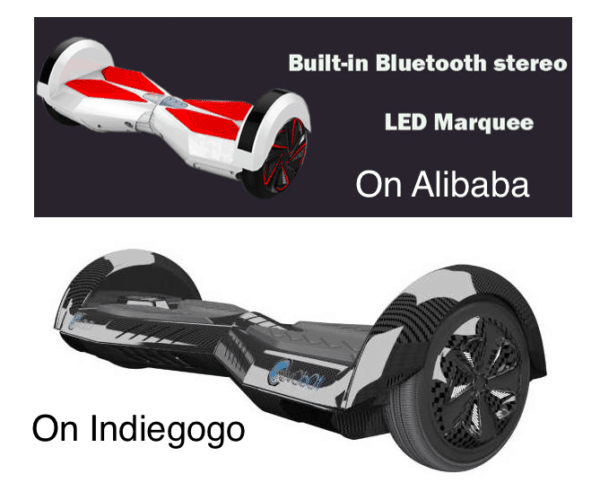 There are other manufacturers that have developed similar products that are available for shipping by the container too.  Check out the demo product in the pitch video – it looks almost identical to the existing product on Alibaba.  The products being pitched appear to have some added design elements .. but come on. Earlier today another potential backer "found a disturbingly similar product".

While this comment is viewable (for now) on the RevoBot campaign page and gives potential backers some food for thought, at least one commenter asking probing questions found his query quickly deleted. Does RevoBot have something to hide?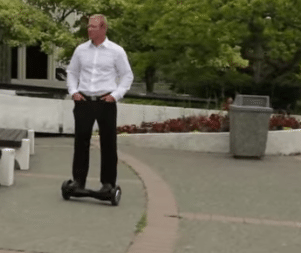 So you can buy a very similar board now for less or wait until September and receive a board for more? The "Super Early Bird" perk at $585 sold out quickly. Currently the available perk is for $665.  You can purchase a similar product on AliExpress for $536.68 – shipping included (not certain about taxes).  Ok.  Your money. Your decision. But why would you want to back the RevoBot? Please explain..
This is a flexible funding campaign too so if you have backers remorse, and would like to change your mind, good luck.
Beyond that I personally think removing the need to walk is pretty dumb given the obesity challenge the US is experiencing.
Update: Paolo Velcich, the person who tipped us off to the campaign, shared the feedback he received from RevoBot after he posted a now deleted comment on the campaign page:
"Hi Paolo, we saw your comment, we changed the outer shell to a matte finish and added a carbon fiber shell as well, if you have negative comments what are you trying to achieve? Are you simply trying to hurt our campaign? If so for what reason? Are we commenting neg. things on yours? We respectfully ask you to keep the neg. comments to yourself and good luck with your campaign it looks awesome 🙂 JULIA"
Paolo responded to Julia and explained;
"the reason why I posted on your page is that I immediately recognized a product I personally had a chance to try when I was in Shenzhen and in Hong Kong.
That fact alone would have not be an issue to me, but I was curious to see if you improved the product somehow and I must say that the final claim at the end of the video sounds pretty disturbing. It sounds like you're actually in a development phase and that the product is an original design.
Which is clearly not true."
Paolo continues to explain it is "nothing personal".  Paolo quite reasonably expects a crowdfunding campaign where "the communication must be honest and transparent".  We concur.

(note: the other commenter that we referenced above has since been deleted from the RevoBot campaign page. Perhaps the project creators were concerned backers would steer clear?)

Have a crowdfunding offering you'd like to share? Submit an offering for consideration using our Submit a Tip form and we may share it on our site!

Sponsored Links by DQ Promote